Week Eleven Game Picks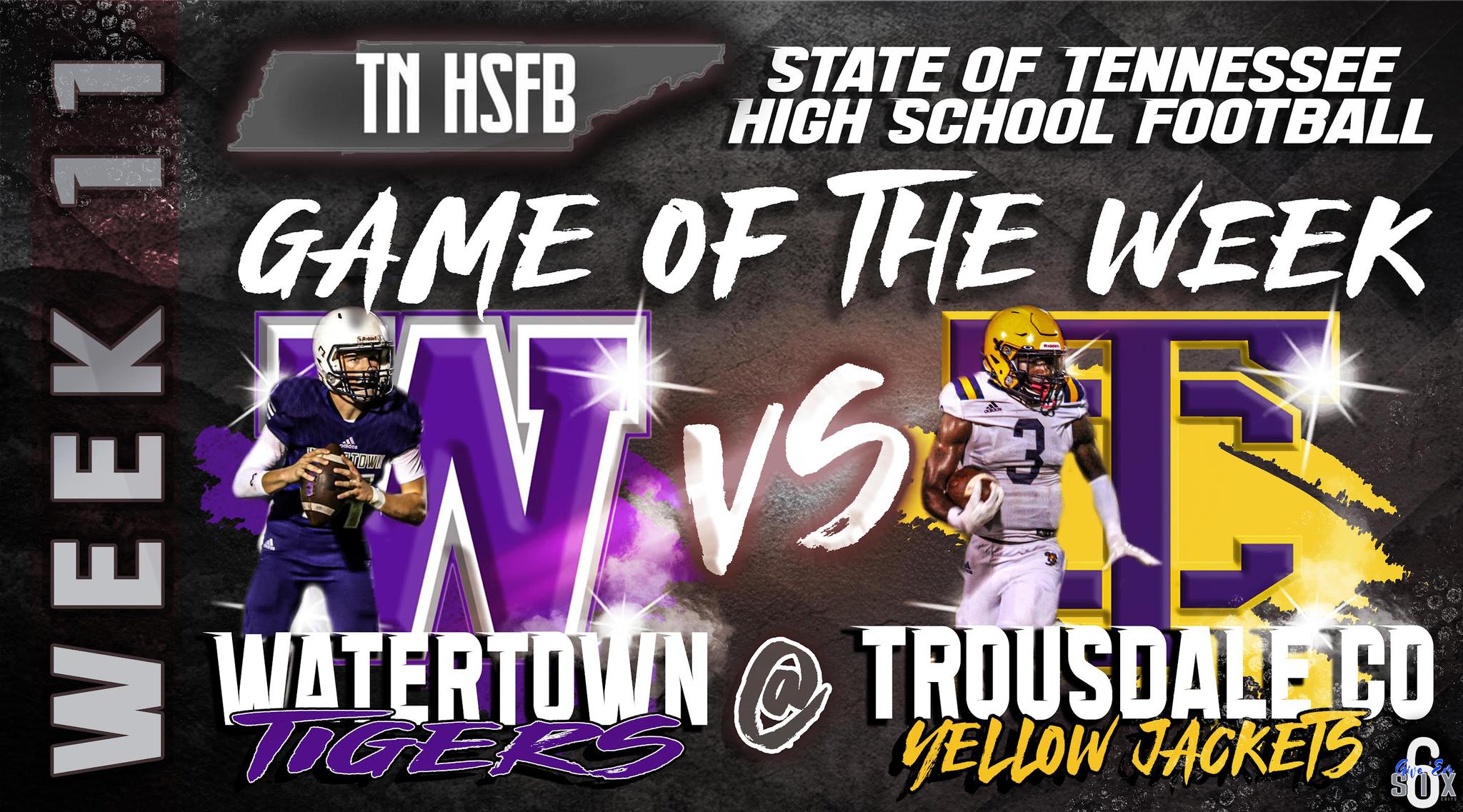 There is always high stakes in the final week of the regular season, and this year is no different. There are several region titles on the line, including our game of the week as Watertown will travel to Trousdale County with the Region 4-2A championship on the line. Our guest picker this week is former Watertown and current Western Kentucky offensive lineman Rusty Staats. Staats was a 2A Mr. Football semifinalist in high school and is in his fourth year with the Western Kentucky football program. Let's get into our staff's standings and picks.





1. Carter Mansfield 93-49
2. Isaac Leedham 87-55
3. Cooper Haines 86-56
4. Hunter DeNote 85-57
5. Landen Secrest 84-58
6. Jake Wallman 83-59
7. Guest Picker 81-61
8. Braedon Henson 80-62
9. Kelsey Crabtree 77-65
10. Jackson Utley 73-69
Game of the Week
2A #8 Watertown (6-3) at 2A #2 Trousdale County (8-0)
Mansfield: Trousdale County
Leedham: Watertown
Haines: Trousdale County
DeNote: Trousdale County
Secrest: Trousdale County
Wallman: Trousdale County
Staats: Watertown
Henson: Trousdale County
Crabtree: Trousdale County
Utley: Trousdale County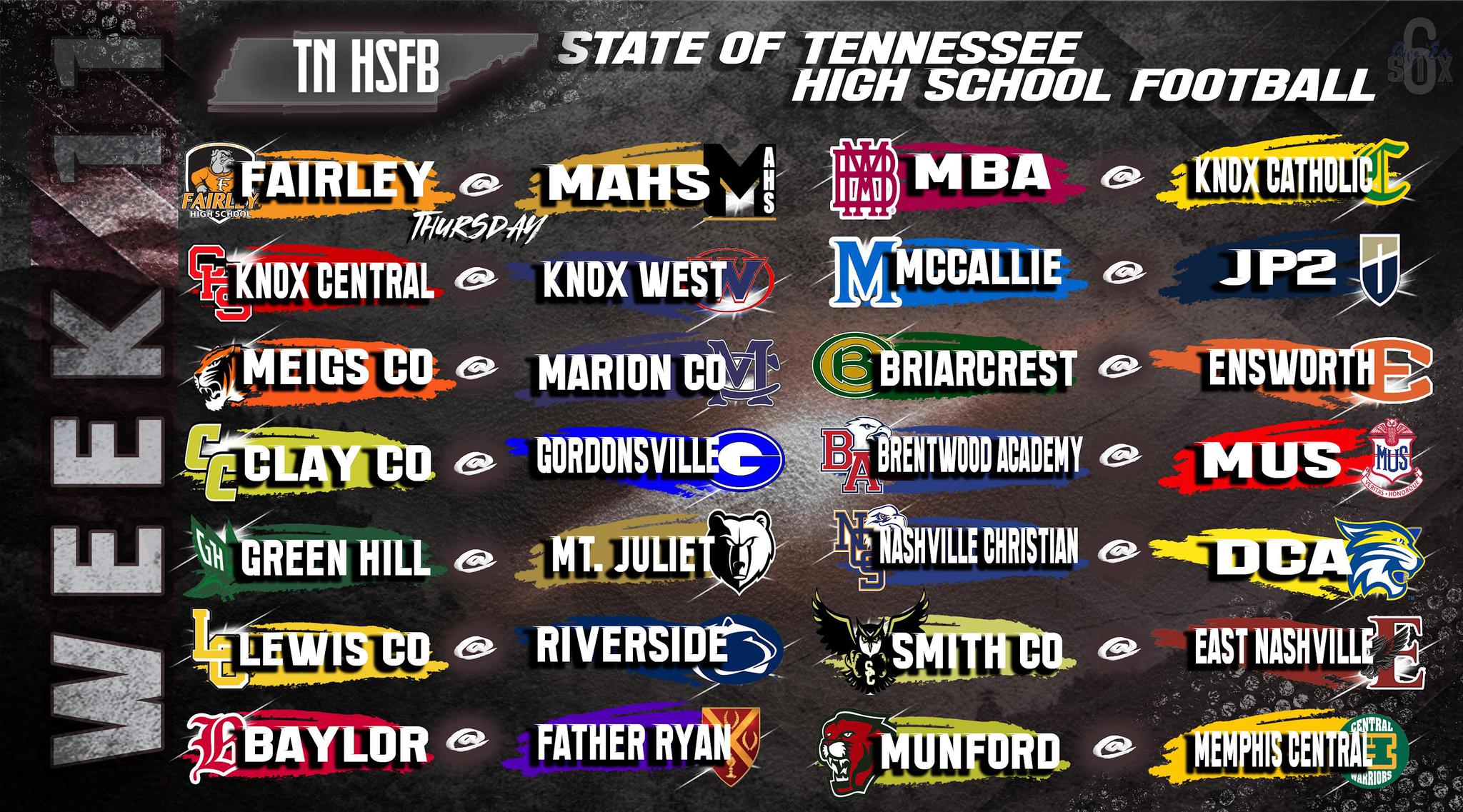 Other Games
2A #9 Fairley (8-1) at 2A #5 MAHS (8-1) (Thu.)
Mansfield: MAHS
Leedham: MAHS
Haines: MAHS
DeNote: MAHS
Secrest: Fairley
Wallman: Fairley
Staats: MAHS
Henson: MAHS
Crabtree: Fairley
Utley: Fairley
5A #3 Knoxville Central (6-2) at 5A #5 Knoxville West (7-2)
Mansfield: Knoxville West
Leedham: Knoxville West
Haines: Knoxville West
DeNote: Knoxville West
Secrest: Knoxville West
Wallman: Knoxville Central
Staats: Knoxville West
Henson: Knoxville Central
Crabtree: Knoxville West
Utley: Knoxville West
2A #1 Meigs County (8-0) at 2A #3 Marion County (8-0)
Mansfield: Marion County
Leedham: Meigs County
Haines: Meigs County
DeNote: Meigs County
Secrest: Meigs County
Wallman: Meigs County
Staats: Marion County
Henson: Marion County
Crabtree: Meigs County
Utley: Meigs County
1A #2 Clay County (9-0) at 1A #6 Gordonsville (8-1)
Mansfield: Gordonsville
Leedham: Gordonsville
Haines: Clay County
DeNote: Gordonsville
Secrest: Clay County
Wallman: Gordonsville
Staats: Gordonsville
Henson: Gordonsville
Crabtree: Clay County
Utley: Gordonsville
5A #2 Green Hill (8-1) at Mt. Juliet (6-3)
Mansfield: Green Hill
Leedham: Green Hill
Haines: Green Hill
DeNote: Green Hill
Secrest: Green Hill
Wallman: Green Hill
Staats: Green Hill
Henson: Mt. Juliet
Crabtree: Green Hill
Utley: Mt. Juliet
2A #14 Lewis County (7-2) at 2A #6 Riverside (8-1)
Mansfield: Riverside
Leedham: Riverside
Haines: Riverside
DeNote: Riverside
Secrest: Riverside
Wallman: Riverside
Staats: Riverside
Henson: Riverside
Crabtree: Lewis County
Utley: Riverside
DII-AAA #7 Baylor (6-3) at DII-AAA #10 Father Ryan (5-4)
Mansfield: Baylor
Leedham: Baylor
Haines: Baylor
DeNote: Father Ryan
Secrest: Baylor
Wallman: Father Ryan
Staats: Baylor
Henson: Father Ryan
Crabtree: Baylor
Utley: Baylor
DII-AAA #3 MBA (6-3) at DII-AAA #6 Knoxville Catholic (5-3)
Mansfield: MBA
Leedham: MBA
Haines: MBA
DeNote: MBA
Secrest: Knoxville Catholic
Wallman: Knoxville Catholic
Staats: Knoxville Catholic
Henson: Knoxville Catholic
Crabtree: MBA
Utley: Knoxville Catholic
DII-AAA #1 McCallie (8-0) at DII-AAA #8 JP2 (6-3)
Mansfield: McCallie
Leedham: McCallie
Haines: McCallie
DeNote: McCallie
Secrest: McCallie
Wallman: McCallie
Staats: McCallie
Henson: JP2
Crabtree: McCallie
Utley: McCallie
DII-AAA #2 Briarcrest (9-0) at DII-AAA #9 Ensworth (6-3)
Mansfield: Briarcrest
Leedham: Ensworth
Haines: Briarcrest
DeNote: Ensworth
Secrest: Briarcrest
Wallman: Briarcrest
Staats: Briarcrest
Henson: Ensworth
Crabtree: Briarcrest
Utley: Ensworth
DII-AAA #5 Brentwood Academy (6-3) at DII-AAA #4 MUS (6-3)
Mansfield: Brentwood Academy
Leedham: MUS
Haines: MUS
DeNote: Brentwood Academy
Secrest: Brentwood Academy
Wallman: MUS
Staats: MUS
Henson: MUS
Crabtree: MUS
Utley: Brentwood Academy
DII-A #2 Nashville Christian (8-1) at DII-A #3 Donelson Christian (8-1)
Mansfield: Nashville Christian
Leedham: DCA
Haines: Nashville Christian
DeNote: Nashville Christian
Secrest: Nashville Christian
Wallman: Nashville Christian
Staats: DCA
Henson: DCA
Crabtree: Nashville Christian
Utley: Nashville Christian
3A #11 Smith County (5-4) at 3A #10 East Nashville (5-4)
Mansfield: Smith County
Leedham: East Nashville
Haines: Smith County
DeNote: Smith County
Secrest: East Nashville
Wallman: Smith County
Staats: East Nashville
Henson: East Nashville
Crabtree: East Nashville
Utley: East Nashville
5A #7 Munford (7-2) at 5A #4 Memphis Central (8-1)
Mansfield: Memphis Central
Leedham: Memphis Central
Haines: Memphis Central
DeNote: Memphis Central
Secrest: Memphis Central
Wallman: Munford
Staats: Memphis Central
Henson: Memphis Central
Crabtree: Memphis Central
Utley: Memphis Central
Thanks to Our Sponsors!