Semifinal Game Picks
By Carter Mansfield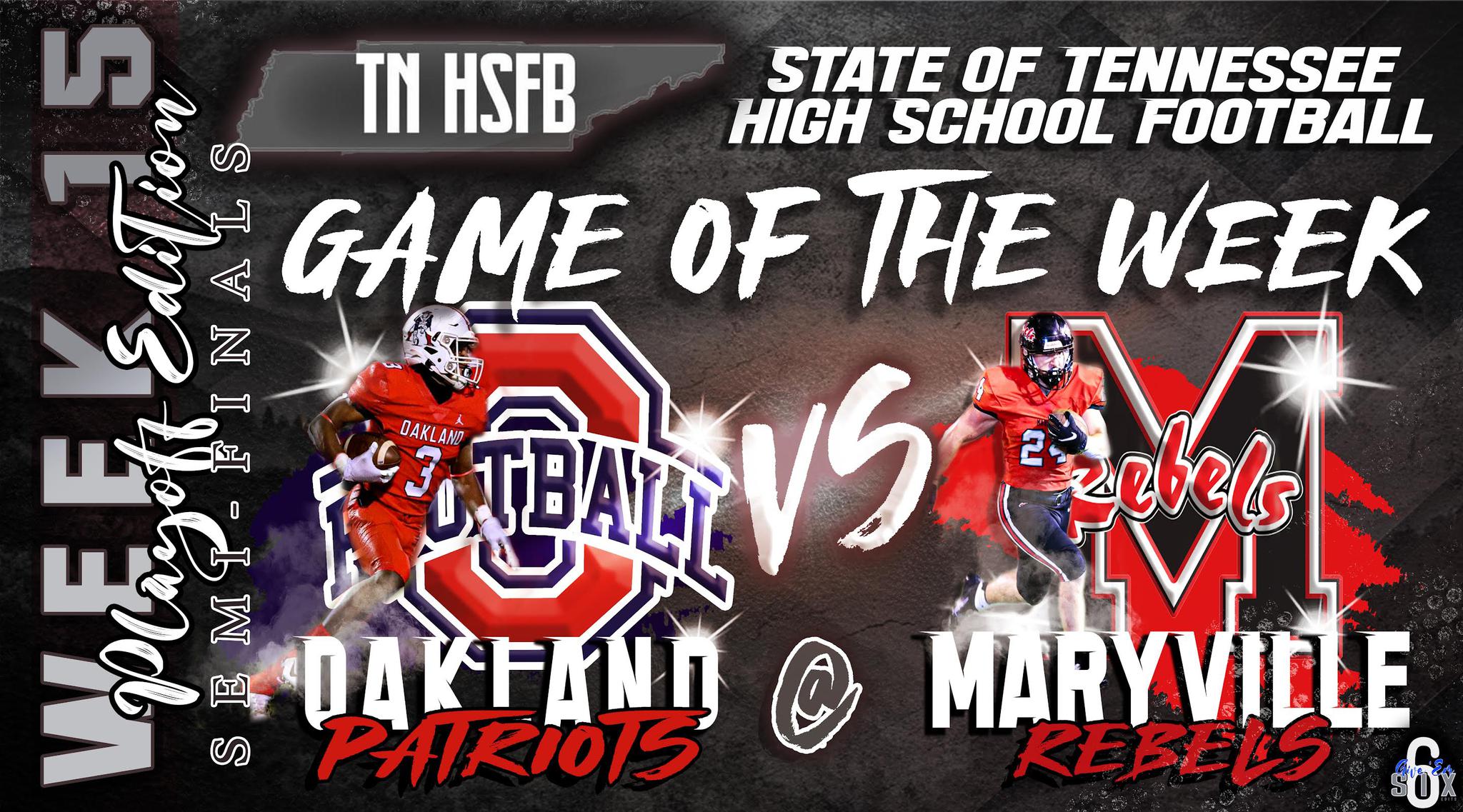 We are now in the semifinals for all public school classifications, and there are twelve very good games across the state this week. Oakland will travel to Maryville in our Game of the Week in one of the state's best rivalries over the last decade. Our guest picker this week is former Oakland and current UNLV offensive lineman Graham Keating. Keating went 53-3 in his high school career with the Patriots, along with two state titles. Let's get into our staff's standings and predictions for all twelve of this week's games.
1. Carter Mansfield 129-73
2. Hunter DeNote 127-75
3. Isaac Leedham 124-78
4. Cooper Haines 120-72
5. Guest Picker 115-77
T-6. Landen Secrest 114-78
T-6. Braedon Henson 114-78
8. Jake Wallman 112-90
9. Kelsey Crabtree 109-93
Game of the Week
Oakland (13-0) at Maryville (13-0)
Mansfield: Oakland
DeNote: Oakland
Leedham: Oakland
Haines: Oakland
Keating: Oakland
Secrest: Oakland
Henson: Maryville
Wallman: Oakland
Crabtree: Maryville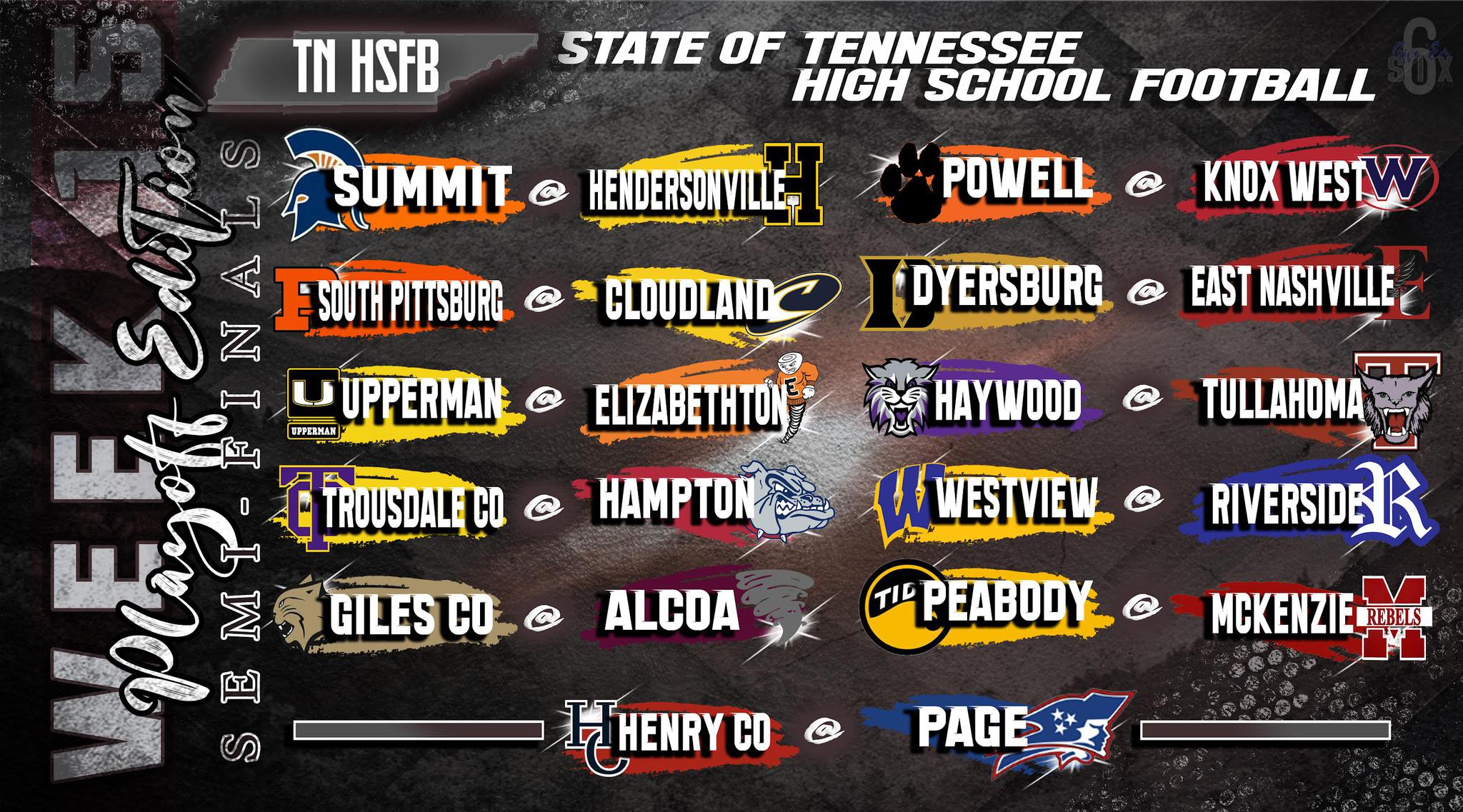 Other Games
Summit (13-0) at Hendersonville (10-3)
Mansfield: Summit
DeNote: Summit
Leedham: Summit
Haines: Summit
Keating: Summit
Secrest: Summit
Henson: Hendersonville
Wallman: Summit
Crabtree: Summit
South Pittsburg (10-2) at Cloudland (12-1)
Mansfield: South Pittsburg
DeNote: South Pittsburg
Leedham: South Pittsburg
Haines: South Pittsburg
Keating: South Pittsburg
Secrest: Cloudland
Henson: Cloudland
Wallman: South Pittsburg
Crabtree: Cloudland
Upperman (12-1) at Elizabethton (11-1)
Mansfield: Elizabethton
DeNote: Elizabethton
Leedham: Elizabethton
Haines: Elizabethton
Keating: Elizabethton
Secrest: Elizabethton
Henson: Elizabethton
Wallman: Elizabethton
Crabtree: Upperman
Trousdale County (11-1) at Hampton (9-2)
Mansfield: Trousdale County
DeNote: Trousdale County
Leedham: Trousdale County
Haines: Trousdale County
Keating: Trousdale County
Secrest: Trousdale County
Henson: Trousdale County
Wallman: Trousdale County
Crabtree: Hampton
Giles County (12-0) at Alcoa (12-1)
Mansfield: Alcoa
DeNote: Alcoa
Leedham: Alcoa
Haines: Alcoa
Keating: Alcoa
Secrest: Giles County
Henson: Alcoa
Wallman: Alcoa
Crabtree: Alcoa
Powell (11-2) at Knoxville West (11-2)
Mansfield: Powell
DeNote: Powell
Leedham: Powell
Haines: Knoxville West
Keating: Powell
Secrest: Knoxville West
Henson: Knoxville West
Wallman: Powell
Crabtree: Knoxville West
Dyersburg (12-0) at East Nashville (9-4)
Mansfield: East Nashville
DeNote: East Nashville
Leedham: Dyersburg
Haines: East Nashville
Keating: East Nashville
Secrest: East Nashville
Henson: East Nashville
Wallman: East Nashville
Crabtree: East Nashville
Haywood (13-0) at Tullahoma (13-0)
Mansfield: Tullahoma
DeNote: Tullahoma
Leedham: Tullahoma
Haines: Haywood
Keating: Tullahoma
Secrest: Tullahoma
Henson: Tullahoma
Wallman: Tullahoma
Crabtree: Haywood
Westview (12-1) at Riverside (12-1)
Mansfield: Westview
DeNote: Riverside
Leedham: Westview
Haines: Westview
Keating: Westview
Secrest: Westview
Henson: Riverside
Wallman: Westview
Crabtree: Riverside
Peabody (11-1) at McKenzie (13-0)
Mansfield: McKenzie
DeNote: Peabody
Leedham: Peabody
Haines: Peabody
Keating: Peabody
Secrest: Peabody
Henson: Peabody
Wallman: Peabody
Crabtree: Peabody
Henry County (8-5) at Page (12-1)
Mansfield: Page
DeNote: Henry County
Leedham: Page
Haines: Page
Keating: Henry County
Secrest: Page
Henson: Henry County
Wallman: Henry County
Crabtree: Page
Thanks to Our Sponsors!