Round Three Game Picks
By Carter Mansfield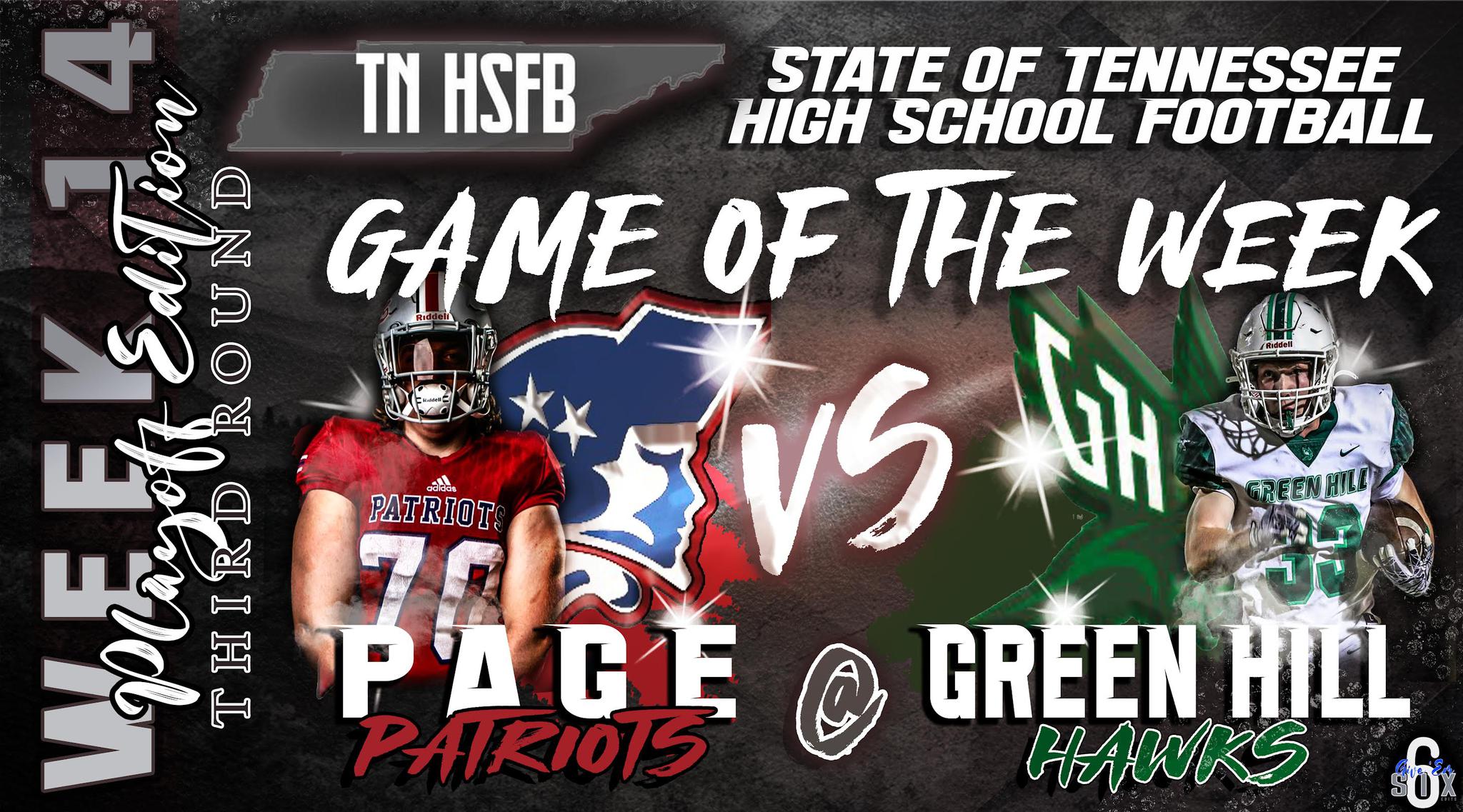 We are now in week three of the playoffs and we have a loaded slate of games. A pair of one loss teams make up our game of the week this week as Page (11-1) travels to Green Hill (11-1). Our guest picker is former Page quarterback and current Northern State tight end Jacob Van Landingham. Van Landingham threw for over 2,000 yards in his career at Page, before starting his college career at Virginia Tech. He spent two seasons with the Hokies before transferring to Northern State. Let's get into our staff's standings and picks.
T-1. Carter Mansfield 118-69
T-1. Hunter DeNote 118-69
3. Isaac Leedham 115-72
4. Cooper Haines 109-78
5. Guest Picker 107-80
6. Landen Secrest 105-82
7. Braedon Henson 104-83
8. Kelsey Crabtree 103-84
9. Jake Wallman 102-85
Game Of The Week
Page (11-1) at Green Hill (11-1)
Mansfield: Page
DeNote: Green Hill
Leedham: Page
Haines: Page
Van Landingham: Page
Secrest: Green Hill
Henson: Page
Crabtree: Page
Wallman: Green Hill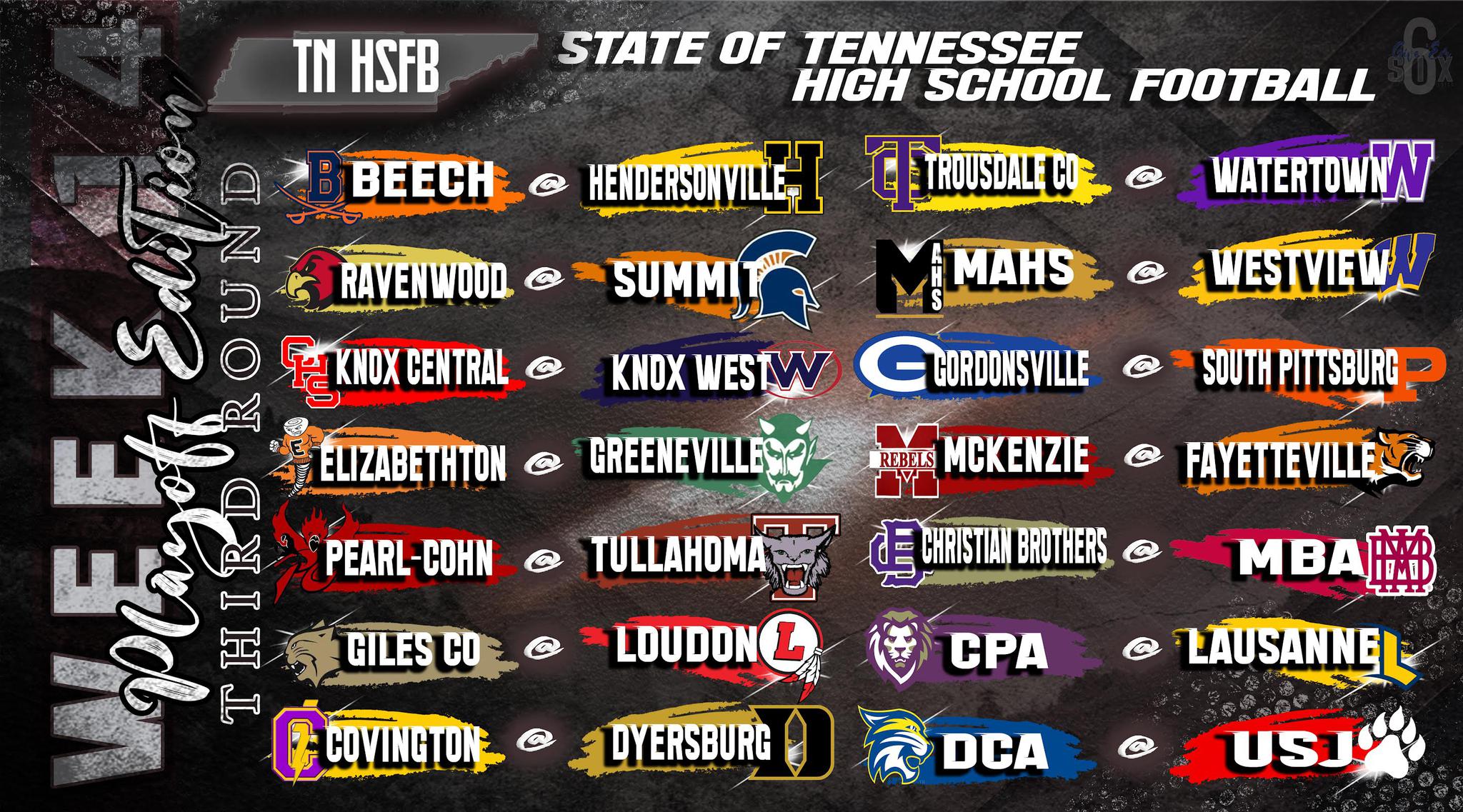 Other Games
Beech (9-3) at Hendersonville (9-3)
Mansfield: Hendersonville
DeNote: Beech
Leedham: Beech
Haines: Hendersonville
Van Landingham: Beech
Secrest: Hendersonville
Henson: Beech
Crabtree: Beech
Wallman: Hendersonville
Ravenwood (10-2) at Summit (12-0)
Mansfield: Summit
DeNote: Summit
Leedham: Summit
Haines: Summit
Van Landingham: Ravenwood
Secrest: Summit
Henson: Summit
Crabtree: Ravenwood
Wallman: Summit
Knoxville Central (8-3) at Knoxville West (10-2)
Mansfield: Knoxville West
DeNote: Knoxville West
Leedham: Knoxville West
Haines: Knoxville West
Van Landingham: Knoxville Central
Secrest: Knoxville West
Henson: Knoxville Central
Crabtree: Knoxville West
Wallman: Knoxville West
DCA (10-1) at USJ (9-2)
Mansfield: USJ
DeNote: DCA
Leedham: DCA
Haines: USJ
Van Landingham: USJ
Secrest: DCA
Henson: DCA
Crabtree: DCA
Wallman: DCA
Elizabethton (10-1) at Greeneville (12-0)
Mansfield: Greeneville
DeNote: Greeneville
Leedham: Greeneville
Haines: Greeneville
Van Landingham: Greeneville
Secrest: Greeneville
Henson: Greeneville
Crabtree: Greeneville
Wallman: Elizabethton
Pearl-Cohn (11-1) at Tullahoma (12-0)
Mansfield: Pearl-Cohn
DeNote: Pearl-Cohn
Leedham: Pearl-Cohn
Haines: Pearl-Cohn
Van Landingham: Pearl-Cohn
Secrest: Pearl-Cohn
Henson: Tullahoma
Crabtree: Pearl-Cohn
Wallman: Pearl-Cohn
Giles County (11-0) at Loudon (11-1)
Mansfield: Giles County
DeNote: Loudon
Leedham: Loudon
Haines: Giles County
Van Landingham: Giles County
Secrest: Giles County
Henson: Loudon
Crabtree: Giles County
Wallman: Giles County
Covington (9-2) at Dyersburg (11-0)
Mansfield: Covington
DeNote: Dyersburg
Leedham: Dyersburg
Haines: Covington
Van Landingham: Dyersburg
Secrest: Dyersburg
Henson: Dyersburg
Crabtree: Covington
Wallman: Covington
Trousdale County (10-1) at Watertown (9-3)
Mansfield: Trousdale County
DeNote: Trousdale County
Leedham: Watertown
Haines: Trousdale County
Van Landingham: Trousdale County
Secrest: Watertown
Henson: Trousdale County
Crabtree: Trousdale County
Wallman: Trousdale County
MAHS (11-1) at Westview (11-1)
Mansfield: Westview
DeNote: MAHS
Leedham: Westview
Haines: Westview
Van Landingham: Westview
Secrest: Westview
Henson: MAHS
Crabtree: MAHS
Wallman: Westview
Gordonsville (11-1) at South Pittsburg (9-2)
Mansfield: South Pittsburg
DeNote: South Pittsburg
Leedham: South Pittsburg
Haines: South Pittsburg
Van Landingham: Gordonsville
Secrest: Gordonsville
Henson: South Pittsburg
Crabtree: South Pittsburg
Wallman: South Pittsburg
McKenzie (12-0) at Fayetteville (11-1)
Mansfield: McKenzie
DeNote: McKenzie
Leedham: Fayetteville
Haines: McKenzie
Van Landingham: McKenzie
Secrest: Fayetteville
Henson: Fayetteville
Crabtree: Fayetteville
Wallman: Fayetteville
Christian Brothers (8-4) at MBA (8-3)
Mansfield: MBA
DeNote: MBA
Leedham: MBA
Haines: MBA
Van Landingham: MBA
Secrest: MBA
Henson: MBA
Crabtree: Christian Brothers
Wallman: Christian Brothers
CPA (10-2) at Lausanne (8-1)
Mansfield: CPA
DeNote: CPA
Leedham: CPA
Haines: CPA
Van Landingham: CPA
Secrest: CPA
Henson: CPA
Crabtree: CPA
Wallman: CPA
Thanks to Our Sponsors!