Games of the Week Picks for the First Round of the Playoffs
By Carter Mansfield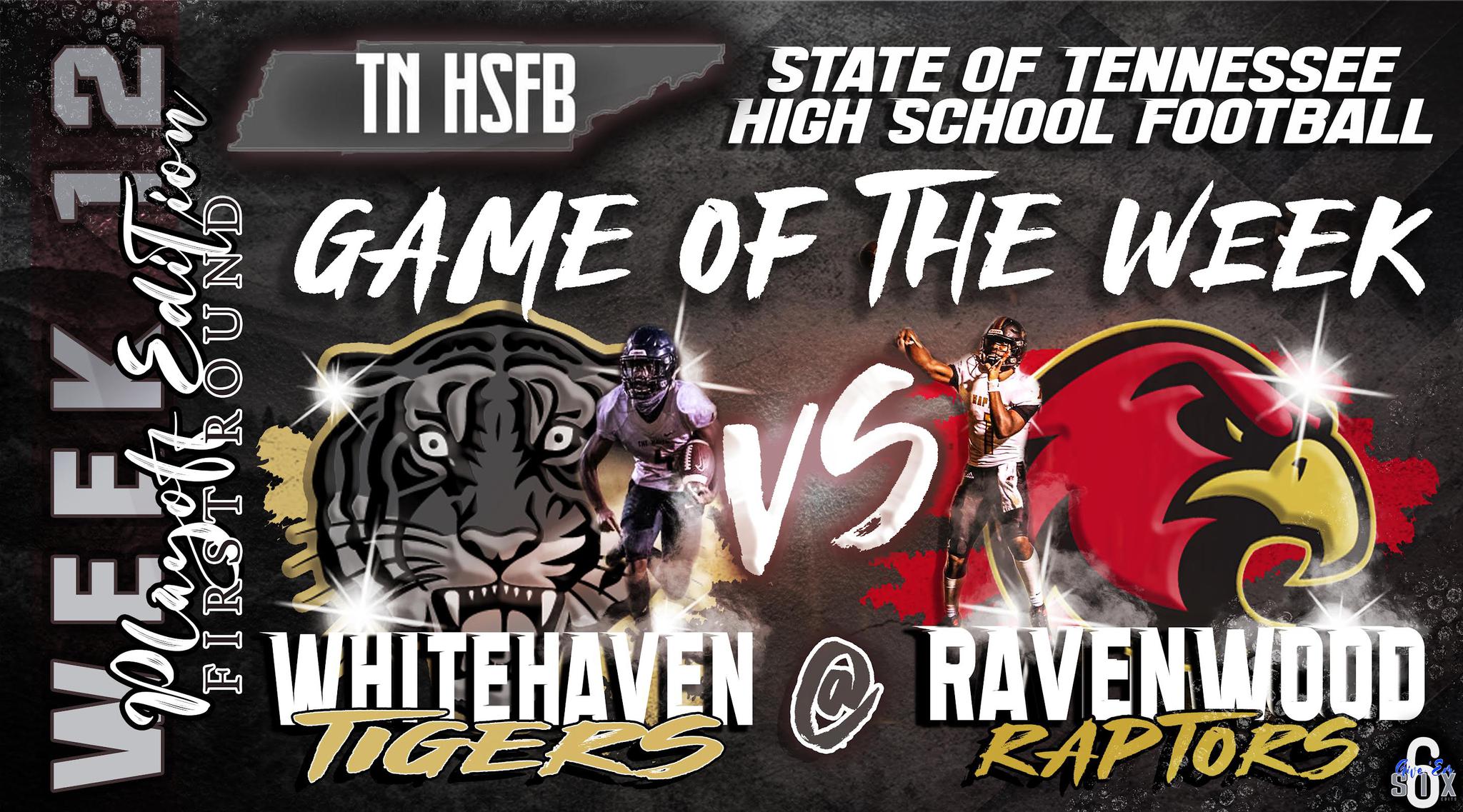 The playoffs are finally here in Tennessee, and there are plenty of great first round matchups on the slate this week. Our game of the week this week is Whitehaven at Ravenwood. Our guest picker is former Ravenwood and current Louisiana-Monroe quarterback Brian Garcia. Let's get into our staff's standings for this season and the picks.
1. Carter Mansfield 101-56
2. Isaac Leedham 99-58
3. Hunter DeNote 96-61
4. Cooper Haines 93-64
5. Landen Secrest 91-66
T-6. Jake Wallman 90-67
T-6. Guest Picker 90-67
8. Braedon Henson 87-70
9. Kelsey Crabtree 83-74
10. Jackson Utley 81-76
Game of the Week
Whitehaven (7-3) at Ravenwood (8-2)
Mansfield: Ravenwood
Leedham: Ravenwood
DeNote: Ravenwood
Haines: Ravenwood
Secrest: Ravenwood
Wallman: Whitehaven
Garcia: Ravenwood
Henson: Ravenwood
Crabtree: Ravenwood
Utley: Ravenwood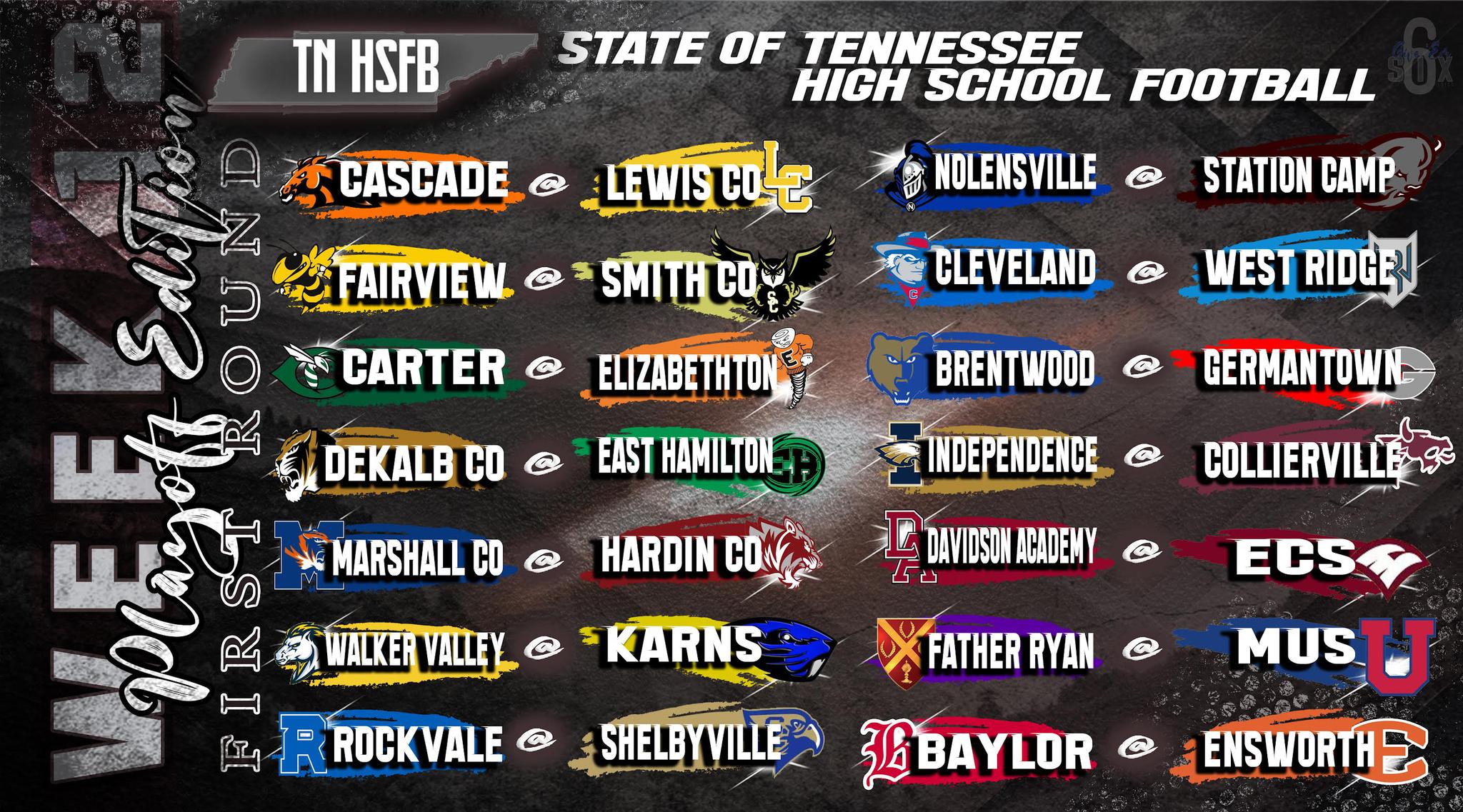 Other Games
Fairview (6-4) at Smith County (5-5)
Mansfield: Fairview
Leedham: Fairview
DeNote: Smith County
Haines: Smith County
Secrest: Fairview
Wallman: Fairview
Garcia: Fairview
Henson: Fairview
Crabtree: Smith County
Utley: Fairview
Cascade (8-2) at Lewis County (7-3)
Mansfield: Cascade
Leedham: Lewis County
DeNote: Lewis County
Haines: Lewis County
Secrest: Cascade
Wallman: Lewis County
Garcia: Cascade
Henson: Lewis County
Crabtree: Lewis County
Utley: Lewis County
Carter (6-4) at Elizabethton (8-1)
Mansfield: Elizabethton
Leedham: Elizabethton
DeNote: Elizabethton
Haines: Elizabethton
Secrest: Elizabethton
Wallman: Elizabethton
Garcia: Elizabethton
Henson: Elizabethton
Crabtree: Elizabethton
Utley: Elizabethton
DeKalb County (6-4) at East Hamilton (7-2)
Mansfield: East Hamilton
Leedham: East Hamilton
DeNote: DeKalb County
Haines: East Hamilton
Secrest: East Hamilton
Wallman: East Hamilton
Garcia: East Hamilton
Henson: DeKalb County
Crabtree: DeKalb County
Utley: East Hamilton
Marshall County (7-3) at Hardin County (10-0)
Mansfield: Hardin County
Leedham: Hardin County
DeNote: Hardin County
Haines: Hardin County
Secrest: Marshall County
Wallman: Hardin County
Garcia: Marshall County
Henson: Hardin County
Crabtree: Hardin County
Utley: Hardin County
Walker Valley (5-5) at Karns (6-4)
Mansfield: Karns
Leedham: Karns
DeNote: Walker Valley
Haines: Karns
Secrest: Karns
Wallman: Karns
Garcia: Karns
Henson: Walker Valley
Crabtree: Karns
Utley: Walker Valley
Rockvale (7-3) at Shelbyville (4-6)
Mansfield: Shelbyville
Leedham: Rockvale
DeNote: Rockvale
Haines: Rockvale
Secrest: Rockvale
Wallman: Rockvale
Garcia: Rockvale
Henson: Shelbyville
Crabtree: Shelbyville
Utley: Shelbyville
Nolensville (4-6) at Station Camp (8-2)
Mansfield: Nolensville
Leedham: Station Camp
DeNote: Nolensville
Haines: Station Camp
Secrest: Station Camp
Wallman: Station Camp
Garcia: Nolensville
Henson: Station Camp
Crabtree: Station Camp
Utley: Station Camp
Cleveland (6-4) at West Ridge (8-2)
Mansfield: Cleveland
Leedham: Cleveland
DeNote: West Ridge
Haines: West Ridge
Secrest: West Ridge
Wallman: West Ridge
Garcia: West Ridge
Henson: Cleveland
Crabtree: Cleveland
Utley: West Ridge
Brentwood (6-4) at Germantown (8-2)
Mansfield: Germantown
Leedham: Brentwood
DeNote: Germantown
Haines: Germantown
Secrest: Germantown
Wallman: Germantown
Garcia: Germantown
Henson: Brentwood
Crabtree: Brentwood
Utley: Brentwood
Independence (4-6) at Collierville (10-0)
Mansfield: Collierville
Leedham: Collierville
DeNote: Independence
Haines: Collierville
Secrest: Collierville
Wallman: Collierville
Garcia: Independence
Henson: Independence
Crabtree: Collierville
Utley: Independence
Davidson Academy (6-4) at ECS (6-3)
Mansfield: ECS
Leedham: ECS
DeNote: Davidson Academy
Haines: ECS
Secrest: Davidson Academy
Wallman: Davidson Academy
Garcia: Davidson Academy
Henson: ECS
Crabtree: ECS
Utley: ECS
Father Ryan (6-4) at MUS (6-4)
Mansfield: MUS
Leedham: MUS
DeNote: Father Ryan
Haines: MUS
Secrest: MUS
Wallman: MUS
Garcia: Father Ryan
Henson: Father Ryan
Crabtree: MUS
Utley: Father Ryan
Baylor (6-4) at Ensworth (7-3)
Mansfield: Ensworth
Leedham: Ensworth
DeNote: Baylor
Haines: Baylor
Secrest: Ensworth
Wallman: Ensworth
Garcia: Baylor
Henson: Ensworth
Crabtree: Ensworth
Utley: Baylor
Thanks to Our Sponsors!