Oakland Dominant in 6A BlueCross Bowl Win Over Brentwood
By Carter Mansfield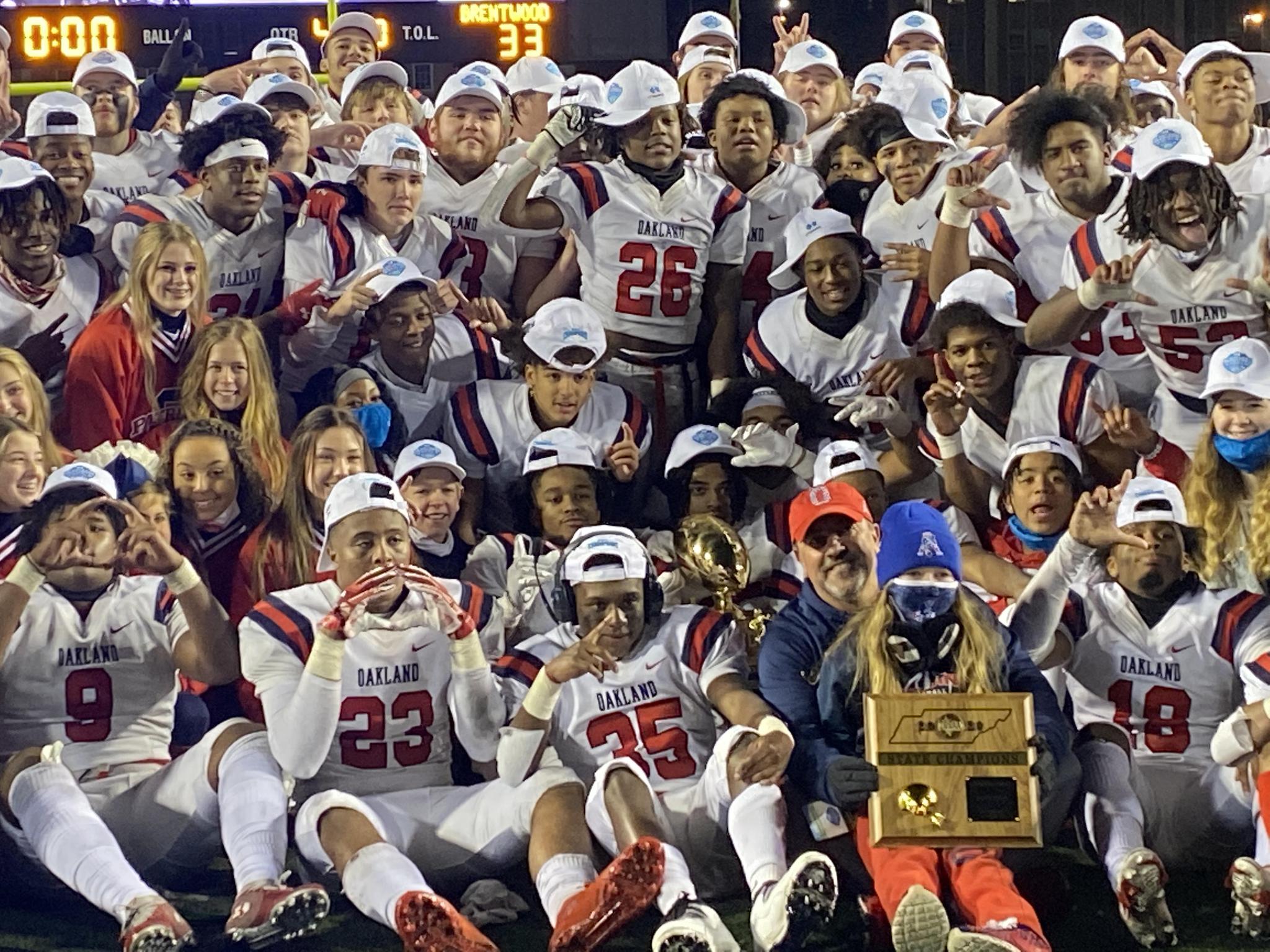 Oakland has beaten every team they've played this year pretty handily, and the 6A BlueCross Bowl was no different for the Patriots, as they dominated Brentwood in every aspect of the game to a final score of 56-33. Oakland had an offensive explosion with 554 yards of total offense, and were led by MVP Jordan James, who had 252 total yards and 6 rushing touchdowns.
The Patriots opened the scoring as Jordan James ran it in from three yards out. It looked like we may have a shootout, because on the next drive Cade Granzow found Aaron Walton streaking down the sideline for a 55-yard touchdown pass to cut the Oakland lead to 7-6. After that though, the Patriots started rolling. James would take a carry 81 yards to the endzone on the next drive, and then after that, Oakland forced a fumble on the kickoff, which led to a 31-yard touchdown run by Antonio Patterson, who finished with 176 yards and 2 touchdowns on the ground. The woes continued for the Brentwood offense as Granzow threw an interception, followed by another touchdown run for James to extend the lead to 28-6 at the end of the first quarter. Brentwood finally found some rhythm offensively, as Granzow found Walton again for a Bruin touchdown, but by this point Brentwood was too far down to come back as James busted off a 59-yard touchdown run to pretty well put the game out of reach. James would take the ball into the endzone from four yards out for his 5th touchdown of the first half to extend the Patriot lead to 42-12 going into halftime. This was a championship record for most points scored in the first half.
With a thirty-point lead going into halftime, the gap was too large for Brentwood to even get close to coming back because of how dynamic Oakland's offense is. Oakland's defense also played very well throughout this game, as Brentwood scored twice in the last two minutes to make the score what it was. James would score one more time in the game for his sixth touchdown, and sealed the MVP award if he hadn't already. This was truly one of the best performances I've seen by a team at state.
This win caps off Oakland's perfect season, and earns them their fifth state title in school history, two of those having come in the last three years.