Strong Run Game Ends Science Hill's Losing Streak Against Elizabethton
By Braedon Henson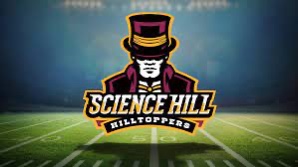 Science Hill and Elizabethton can only mean one thing: high school football has officially begun.
On Friday, the two programs continued their long history of kicking-off the season together in the second rendition of the newly coined 'Railroad Rumble.'
Coming into the game, the Cyclones had not lost a battle with the Hilltoppers since the 2017 campaign, including last year's matchup at ETSU's William B. Greene Stadium. All it took was 48 minutes on the gridiron, however, and a strong Science Hill run game, to rid the Hilltoppers of their Elizabethton stigma.
Prior to Friday's game, both teams had question marks on both sides of the ball, including at quarterback. Elizabethton coach Shawn Witten ultimately decided on Sophomore Jeriah Griffin to lead the Cyclone offense, with Science Hill coach Stacy Carter giving Junior Jaysahn Swartz the start.
The big takeaway from this year's 'Rumble was no big play or player, rather the colossal amount of penalties by each team. By the game's midway point, the teams had combined for over a dozen infractions.
"Just too many mistakes," said Shawn Witten, "but we'll fix it, we'll respond and get ourselves better."
The Cyclones would get the ball first, but a promising pass-heavy drive would culminate in a 33-yard missed field goal.
Science Hill looked as if they would take advantage of the miscue, but a 3rd and Short pass would be picked off by Cyclone Junior Cam Baker. It wouldn't be long, however, before Hilltopper Steven Famoyian would return the favor with a pick of his own. "He jumped that route pretty good," said Stacy Carter, "But hey, we can't throw much either." Jaysahn Swartz would capitalize with a goal line option keeper for a touchdown. Max Turan's PAT was good.
The 'Toppers would extend their lead to 14 in the second quarter, courtesy of a Trevor Whitson score.
The first half wouldn't go quietly, however. With 6 minutes left, Science Hill punted to Cyclone Senior Cade Russell. However, before Russell caught the punt, he was brutally interfered with by the 'Toppers long-snapper, causing flags to fly and a sizable scuffle to ensue between both benches. Coach Shawn Witten knew the hurt of losing his star Senior return-man. "It's unfortunate. I thought it could've been handled a lot better because that's not what we do. That's not our game."
It took the officials over five minutes to make a decision on the brutal hit, but ultimately Science Hill's starting center would be ejected, and Elizabethton would be predominantly penalized for the scuffle. The play would give the Cyclones a bit of extra momentum, setting Jeriah Griffin up for a 45 yard lob pass to Senior wideout Teddy Orton with 39 seconds remaining in the half.
The second half of the contest was slow, sloppy football. Science Hill's loss of their center proved to be detrimental, as three second half snaps would go over Jaysahn Swartz head.
A Max Turan field goal would be the only score of the half, as both teams struggled offensively. A Derrick Smith interception would put the nail in Elizabethton's week-one coffin.
Ultimately, Elizabethton's lack of experience and strength would prove to be a major fault, with Science Hill taking advantage of their strong offensive line. The Hilltoppers rushed for nearly 200 yards in the contest, showing promise in the new, run-heavy offensive scheme.
Elizabethton has a bye next week, before heading to powerhouse Greeneville on the second of September. "We have to work on everything on both sides of the ball, and we have two weeks to do that," said Shawn Witten.
Science Hill hopes to take this momentum moving forward into what Stacy Carter calls "The Gauntlet." A schedule that includes Anderson County next week, Powell, and Maryville all by September end, Science Hill still has much to work on.