State of Tennessee HSFB DII-AAA Preseason Preview
By Carter Mansfield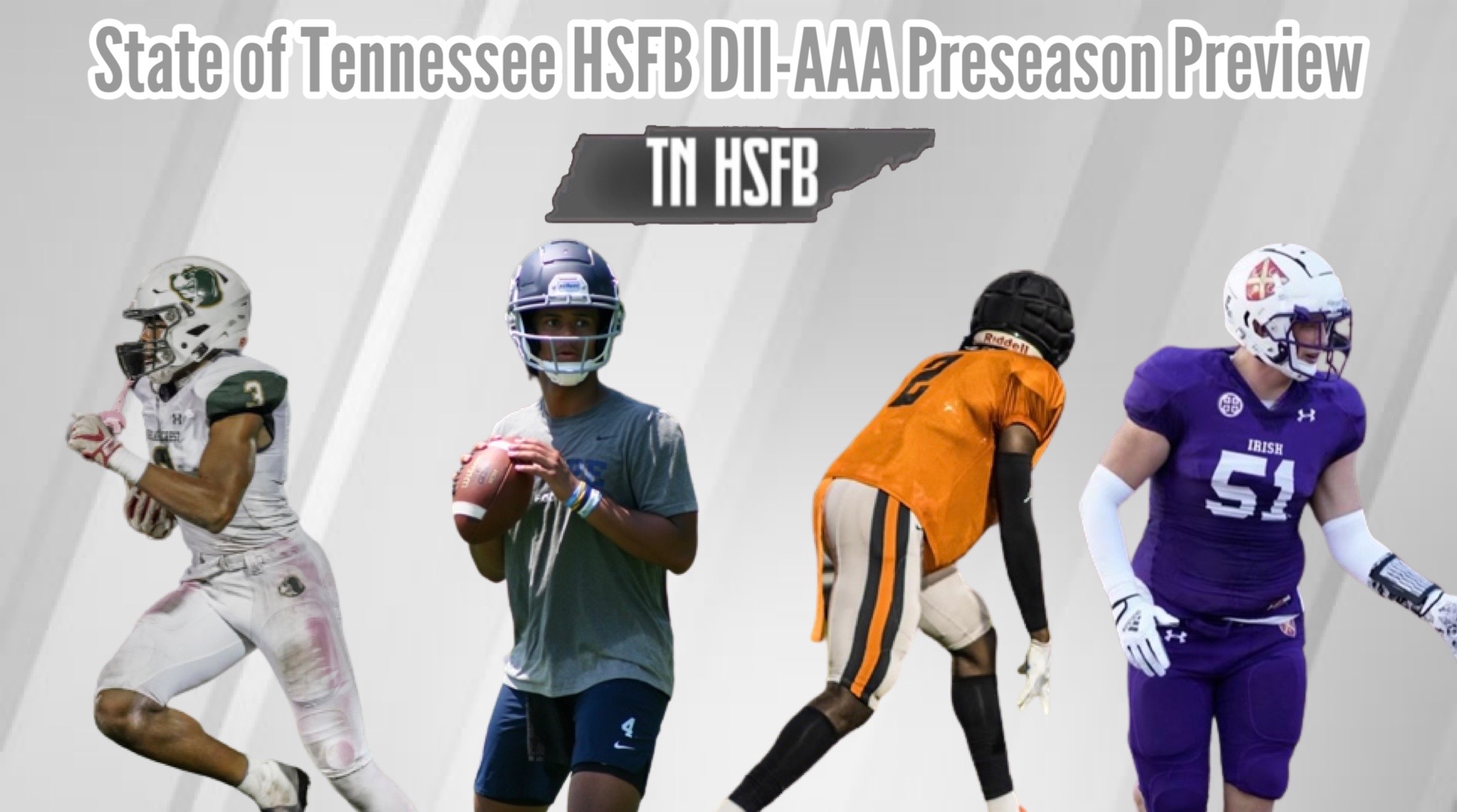 As football season gets closer, we will be breaking down each classification in the coming days and weeks leading up to the season. These previews include players to watch, our staff's top 10 preseason rankings, our Mr. Football pick, state championship pick, and region predictions for each region in the class.

One Player to Watch at Each Position
QB: Kenny Minchey, Pope Prep, Sr.
Minchey is everything you could want in a high school quarterback. He was a Mr. Football finalist last season, an Elite 11 finalist over the summer, and is committed to Pittsburgh. Minchey will look to take that final step in his high school career by winning Mr. Football and a state championship.
RB: Caleb Hampton, Baylor, Sr.
Hampton is one the state's best all-around athletes, as he was an all-state running back last year and is committed to South Carolina for baseball. Expect Hamtpon to be the workhorse for the Baylor offense and a Mr. Football contender when the season is over.
WR: Shamar Porter, Ensworth, Sr.
Porter is the most electric player on an Ensworth team that is loaded with talent going into this season. Porter will be quarterback Levi Moore's top target, which should allow him to put up monster numbers. Porter is a four-star recruit and is committed to Kentucky.
OL: Brycen Sanders, Baylor, Sr.
Sanders is an athletic offensive lineman, with the ability to play multiple positions on the offensive line. Sanders is committed to Ole Miss and will be the anchor for Baylor's offense and will clear the way for players like Caleb Hampton.



DL: Drake Carlson, Father Ryan, Sr.
Carlson is dominant both on the offensive and defensive line. He will be one of the key pieces for Father Ryan on both sides of the ball, and will look to lead the program to turn some heads in the playoffs. Carlson is committed to Purdue.



LB: Carson Gentle, McCallie, Jr.
Gentle has started for the state's best DII-AAA program over the last few years, McCallie, since he was a freshman. The Tennessee commitment will now take over an even bigger leadership role and will look to lead McCallie to another state title.



DB: Max Carroll, Briarcrest, Sr.
Carroll led a Briarcrest team that turned a lot of heads in 2021. The TCU commitment will once again be a key player for the Saints this season, as expectations are much higher for the program going into his senior season.
Mr. Football Pick: Kenny Minchey, Pope Prep
Region Predictions
East/Middle
1. McCallie 10-0 (5-0)
2. MBA 8-2 (4-1)
3. Pope Prep 7-3 (3-2)
4. Baylor 6-4 (2-3)
5. Knoxville Catholic 4-5 (1-4)
6. Father Ryan 5-5 (0-5)
West
1. Ensworth 9-1 (5-0)
2. Briarcrest 9-1 (4-1)
3. Brentwood Academy 7-3 (3-2)
4. MUS 7-3 (2-3)
5. Christian Brothers 6-4 (1-4)
6. SBA 1-9 (0-5)
Preseason Top 10 Rankings
1. McCallie
2. Ensworth
3. MBA
4. Briarcrest
5. Pope Prep
6. Brentwood Academy.
7. Baylor
8. MUS
9. Knoxville Catholic
10. Christian Brothers

State Championship Pick: McCallie over Ensworth