State of Tennessee HSFB Class 4A Preseason Preview
By Carter Mansfield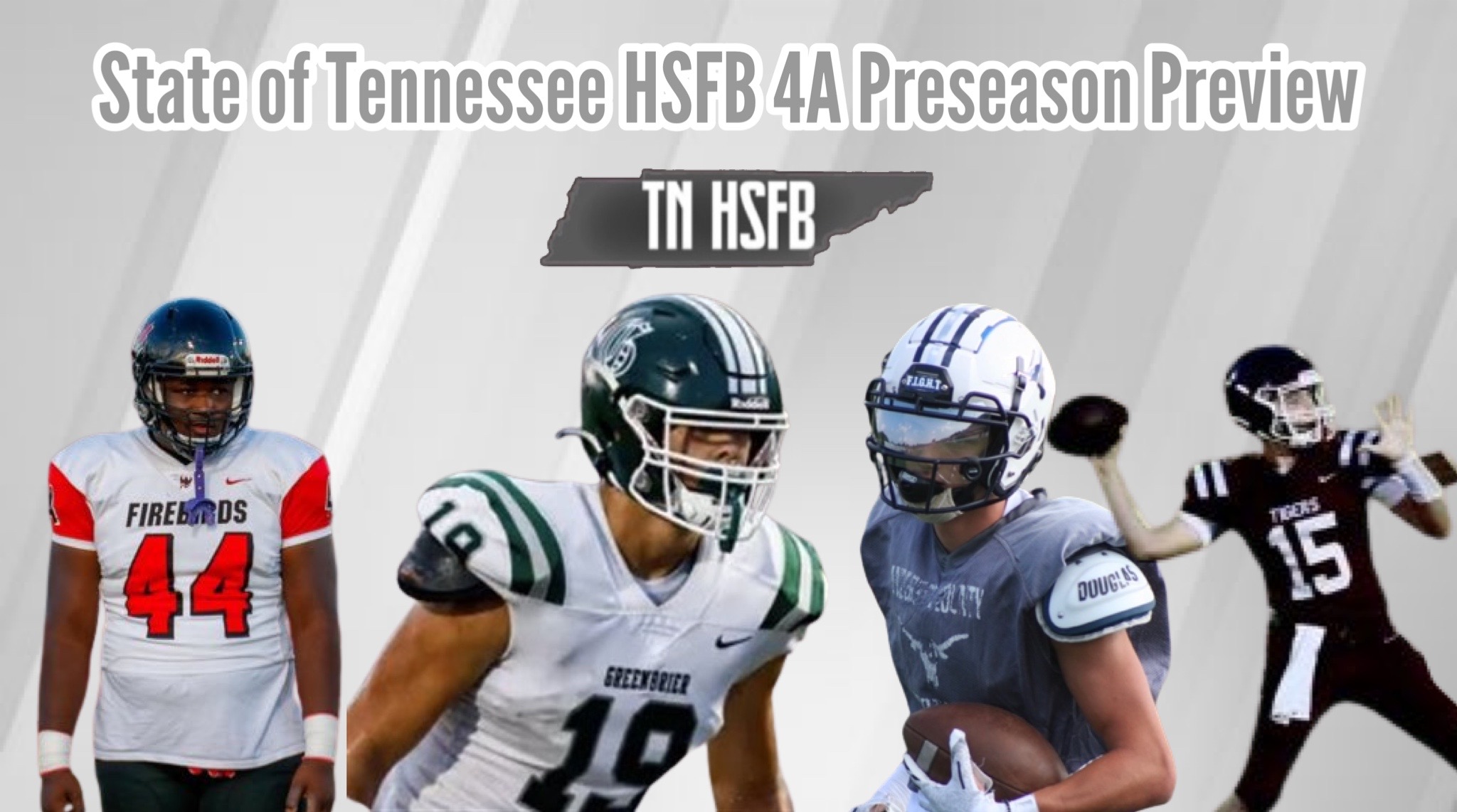 As football season gets closer, we will be breaking down each classification in the coming days and weeks leading up to the season. These previews include players to watch, our staff's top 15 preseason rankings, our Mr. Football pick, state championship pick, and region predictions for each region in the class.
One Player to Watch at Each Position
Carter Smith, QB, Jr., Hardin County
Smith was one of the most dynamic passers in the state as a sophomore. Even with the loss of the junior quarterback's top target in Kaydin Pope to Mississippi State, except Smith to be one of the state's most efficient passers, while also turning heads in the passing yards category.
Jaxson Rollins, RB, Jr., Upperman
Rollins was an offensive star for one of the state's best teams last season as a sophomore, and expect him to carry the load for the Upperman offense once again this season. Expect Rollins to become a household name around the state this season and a contender for Mr. Football once the season is over.
Bryson Vowell, WR, Sr., Anderson County
Vowell is everything you want in a wide receiver. Vowell has great size at 6'4 and has great speed along with his frame. Vowell will be a key piece in Anderson County's passing game, which should be one of the better units in the state. Vowell currently holds offers from schools like Iowa, Memphis, and Arkansas State.
LaJairus Abernathy-Robinson, Lineman, Sr., Pearl-Cohn
Robinson was one of the centerpieces of one of the state's best defenses last year in Pearl-Cohn, while also being a great blocker on the offensive side when he was used there. Expect him to become an all-state candidate this year and establish himself as one of the state's best linemen. He currently holds offers from schools such as Ball State, Charlotte, and UT-Martin.
Nathan Robinson, LB, Sr., Greenbrier
Robinson was absolutely dominant as a pass rusher last season, totalling 19 sacks as a junior. Robinson is committed to Tennessee and will look to lead Greenbrier back to the playoffs in his senior season.
Jamari Person, DB, Sr., Haywood
Person is one of the best two-way players in the state and has really blown up on the recruiting trail, as of late. Expect Person to play the same role for the Tomcats this season as star Jaylen Lewis, who is now at Arkansas, did last season. Person currently holds offers from schools such as Indiana, Marshall, and Austin Peay.
Mr. Football Pick: Jaxson Rollins, Upperman
Region Predictions
Region 1-4A
1. Greeneville 10-0 (5-0)
2. Elizabethton 9-1 (4-1)
3. Volunteer 5-5 (3-2)
4. Seymour 5-5 (2-3)
5. Sullivan East 2-8 (1-4)
6. Grainger 2-8 (0-5)
Region 2-4A
1. Anderson County 8-2 (5-0)
2. Carter 8-2 (4-1)
3. Fulton 5-5 (3-2)
4. South-Doyle 4-6 (2-3)
5. Gibbs 2-8 (1-4)
6. Scott 0-10 (0-5)
Region 3-4A
1. Red Bank 8-2 (6-0)
2. East Hamilton 9-1 (5-1)
3. Chattanooga Central 5-5 (4-2)
4. Soddy Daisy 4-6 (3-3)
5. Hixson 2-8 (2-4)
6. East Ridge 1-9 (1-5)
7. Sequoyah 0-10 (0-6)
Region 4-4A
1. Upperman 8-2 (5-0)
2. DeKalb County 7-3 (4-1)
3. Macon County 6-4 (3-2)
4. Stone Memorial 7-3 (2-3)
5. Cumberland County 4-6 (1-4)
6. Livingston Academy 0-10 (0-5)
Region 5-4A
1. Pearl-Cohn 9-1 (8-0)
2. Tullahoma 9-1 (7-1)
3. Marshall County 8-2 (6-2)
4. Greenbrier 6-4 (5-3)
5. Creek Wood 4-6 (4-4)
6. Montgomery Central 4-6 (3-5)
7. Lawrence County 4-6 (2-6)
8. Hillwood 1-9 (1-7)
9. Glencliff 0-10 (0-8)
Region 6-4A
1. Hardin County 10-0 (5-0)
2. Lexington 7-3 (4-1)
3. Jackson South Side 6-4 (3-2)
4. Chester County 6-4 (2-3)
5. McNairy Central 1-9 (1-4)
6. Liberty Tech 0-10 (0-5)
Region 7-4A
1. Haywood 10-0 (5-0)
2. South Gibson 7-3 (4-1)
3. Milan 5-5 (3-2)
4. Jackson North Side 4-6 (2-3)
5. Crockett County 2-8 (1-4)
6. Obion County 1-9 (0-5)
Region 8-4A
1. Ridgeway 7-3 (5-0)
2. Kirby 6-4 (4-1)
3. Melrose 6-4 (3-2)
4. Wooddale 4-6 (2-3)
5. Fayette-Ware 4-5 (1-4)
6. Craigmont 3-7 (0-5)
Top 15 Preseason Rankings
1. Greeneville
2. Pearl-Cohn
3. Elizabethton
4. Anderson County
5. Haywood
6. Hardin County
7. Tullahoma
8. Carter
9. Red Bank
10. Upperman
11. East Hamilton
12. Ridgeway
13. Marshall County
14. South Gibson
15. DeKalb County

State Championship Pick: Greeneville over Pearl-Cohn