State of Tennessee HSFB Class 3A Preview
By Carter Mansfield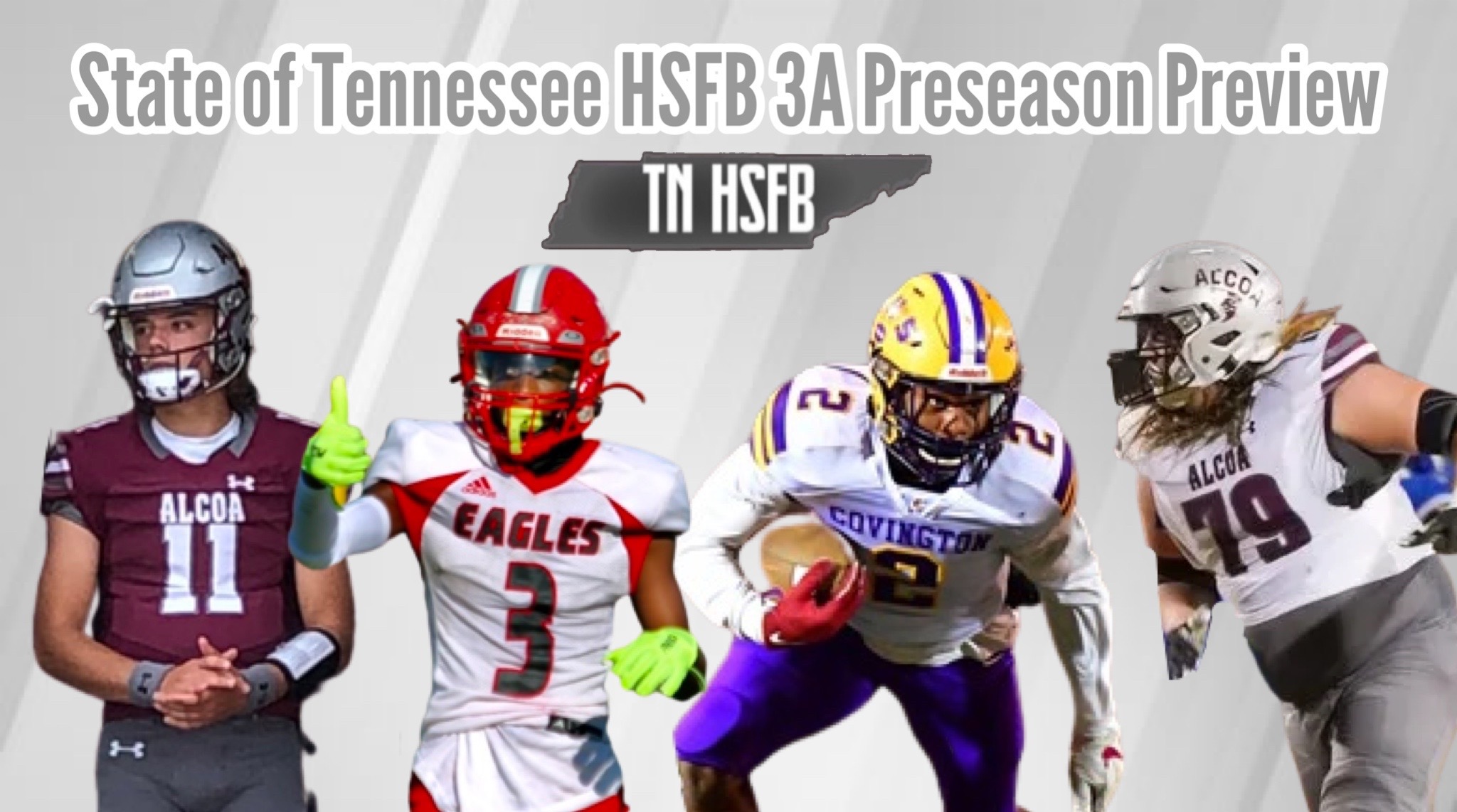 As football season gets closer, we will be breaking down each classification in the coming days and weeks leading up to the season. These previews include players to watch, our staff's top 15 preseason rankings, our Mr. Football pick, state championship pick, and region predictions for each region in the class.

One Player to Watch at Each Position
Zach Lunsford, Alcoa, QB, Sr.
Lunsford has waited his turn at Alcoa. After sitting behind last year's Mr. Football winner Caden Buckles since late in his sophomore year, Lunsford is poised to be one of the bigger breakout players in 3A and continue Alcoa's dominant run.
Jamarion Dowell, Covington, RB, Sr.
Dowell is coming off of a phenomenal season, where he finished as a Mr. Football semifinalist in his junior season for a very good Covington team. Expect Dowell to be in the running for the award once again this year and for Covington to make a run at a state title.
Frank Gordon, East Nashville, WR, Sr.
Gordon was an all-state receiver and was one of the key contributors for an East Nashville team that made the state championship game last season. Gordon will look to improve on his all-state performance and lead East Nashville to contend for a title once again in 2022.
Lance Williams, Alcoa, OL, Sr.
Williams has been a key piece on the Alcoa offensive line since he was a freshman. He is one of the most dominant offensive linemen in high school football. Williams is now committed to Virginia Tech and will look to win his fourth state title in 2022 as a senior.
Jamison Keeley, Smith County, DL, Sr.
Keeley was an all-state defensive lineman last season for a Smith County program that is on the rise in 3A. He will be a key piece for the Owls, and will look to lead them to take that next step and make a deep playoff run.
AC Mason-Young, Covington, OLB, Sr.
Mason-Young is an extremely versatile player, who can play outside linebacker and defensive back. He also plays running back for the Chargers and will be a crucial piece on both sides of the ball, while looking to lead the program to a state championship. Mason-Young currently holds offers from Tennessee and UT-Martin.
Mark Joseph, Sheffield, DB, Sr.
Joseph is one of the best high school players that most fans have not heard about. Not only did Joseph intercept 10 passes in 11 games, he was also a key piece on the offensive side of the ball as well. It remains to be seen whether Joseph can lead Sheffield on a playoff run or to a region title, but he is one player that every high school football fan in Tennessee should watch this season.
Mr. Football Pick: Zach Lunsford, Alcoa
Region Predictions
Region 1-3A
1. Unicoi County 9-1 (4-0)
2. Chuckey-Doak 7-3 (3-1)
3. West Greene 6-4 (2-2)
4. Johnson County 2-8 (1-3)
5. Claiborne 1-9 (0-4)
Region 2-3A
1. Alcoa 9-1 (5-0)
2. Pigeon Forge 8-2 (4-1)
3. Gatlinburg-Pittman 8-2 (3-2)
4. Austin-East 4-6 (2-3)
5. Northview Academy 3-7 (1-4)
6. Union County 2-8 (0-5)
Region 3-3A
1. Loudon 8-2 (5-0)
2. Kingston 7-3 (4-1)
3. Signal Mountain 6-4 (3-2)
4. Brainerd 3-7 (2-3)
5. McMinn Central 3-7 (1-4)
6. Sweetwater 2-8 (0-5)
Region 4-3A
1. Giles County 7-3 (4-0)
2. Sequatchie County 6-4 (3-1)
3. Cannon County 5-5 (2-2)
4. Community 4-6 (1-3)
5. Grundy County 1-9 (0-4)
Region 5-3A
1. East Nashville 6-4 (4-0)
2. Smith County 7-3 (3-1)
3. Stratford 4-6 (2-2)
4. Jackson County 4-6 (1-3)
5. Maplewood 1-9 (0-4)
Region 6-3A
1. Fairview 8-2 (6-0)
2. Waverly 9-1 (5-1)
3. White House 5-5 (4-2)
4. White House Heritage 5-5 (3-3)
5. Stewart County 5-5 (2-4)
6. Sycamore 1-9 (1-5)
7. Cheatham County 2-8 (0-6)
Region 7-3A
1. Covington 9-1 (5-0)
2. Dyersburg 8-2 (4-1)
3. Ripley 4-6 (3-2)
4. Millington Central 4-6 (2-3)
5. Bolton 2-8 (1-4)
6. Bolivar Central 1-9 (0-5)
Region 8-3A
1. Memphis East 7-3 (6-0)
2. Trezevant 7-3 (5-1)
3. Raleigh Egypt 6-4 (4-2)
4. Sheffield 4-6 (3-3)
5. Douglass 3-7 (2-4)
6. Hamilton 1-9 (1-5)
7. Memphis Business 0-10 (0-6)
Top 15 Preseason Rankings
1. Alcoa
2. Covington
3. East Nashville
4. Giles County
5. Fairview
6. Dyersburg
7. Waverly
8. Pigeon Forge
9. Smith County
10. Loudon
11. Gatlinburg-Pittman
12. Unicoi County
13. Memphis East
14. Sequatchie County
15. Kingston
State Championship Pick: Alcoa over Covington