State of Tennessee HSFB Class 2A Preseason Preview
By Carter Mansfield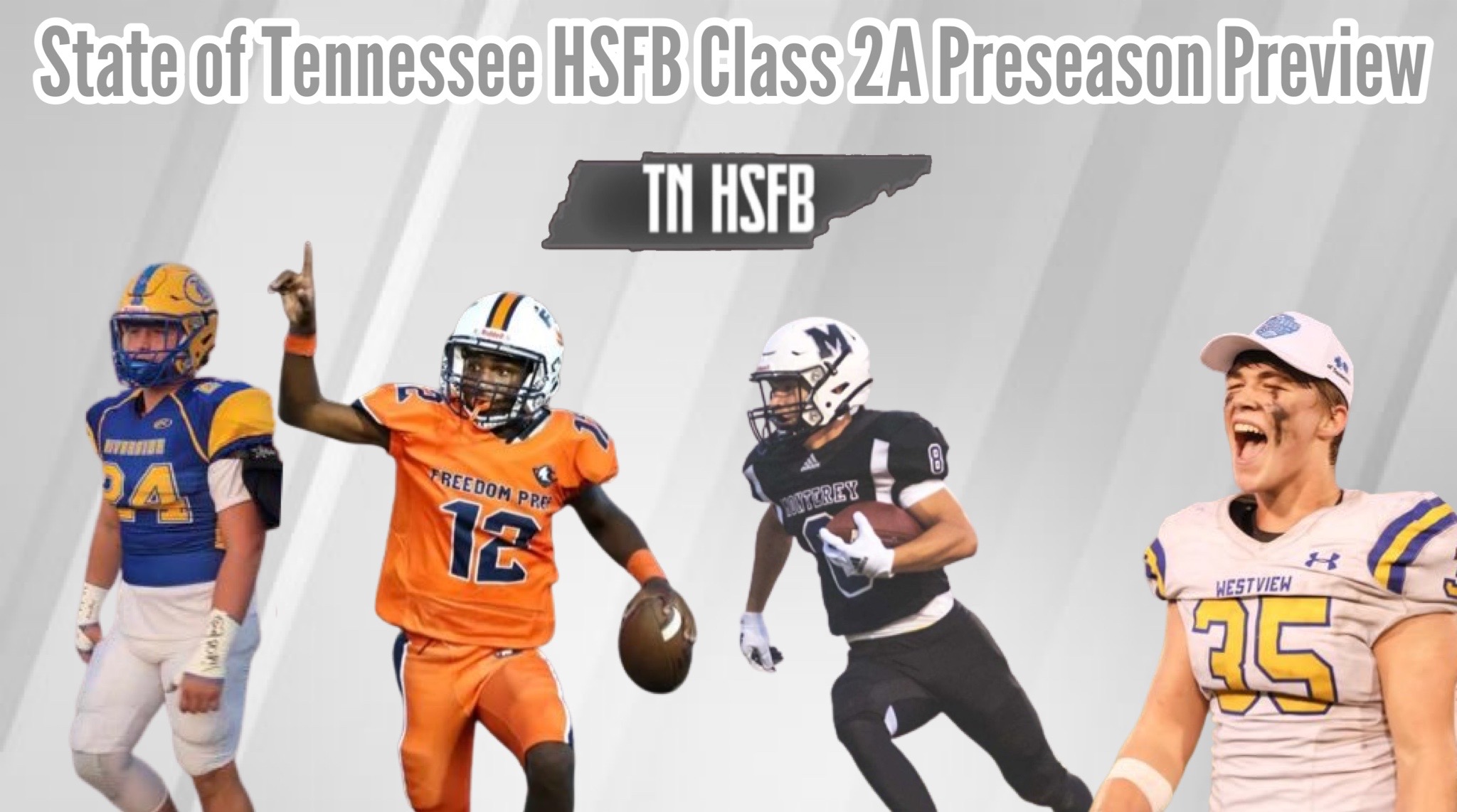 As football season gets closer, we will be breaking down each classification in the coming days and weeks leading up to the season. These previews include players to watch, our staff's top 15 preseason rankings, our Mr. Football pick, state championship pick, and region predictions for each region in the class.
One Player to Watch at Each Position
QB: EJ Gilliam, Freedom Prep, Jr.
Gilliam was one of the state's best passers last season as a sophomore, throwing for 1,557 yards, 31 touchdowns, and only 3 interceptions. If Gilliam can improve on his effort from last season expect him to be an all-state caliber player and earn Mr. Football consideration.
RB: Mason Bowman, Monterey, Sr.
Bowman was just under 2,000 rushing yards last season and was one of the most electric players in 2A. Monterey should be the favorites to win Region 2-2A, and if Bowman can match or improve on his performance from last season, expect him to be one of the frontrunners for Mr. Football.
WR: Demarkus Brown, Mt. Pleasant, Sr.
Brown, a Southeast Missouri State commitment, is one of the state's best two-way players. Mt. Pleasant is a program that is trending upward, and if they make a playoff run this season, expect Brown to be the face of it.
OL: Spence Tankersley, Forrest, Jr.
Tankersley is a force on the offensive line at 6'5 and 285 pounds. He was an all-state caliber player last season, and expect him to pave the way for Forrest to make it deep into the 2A playoffs this season.
DL: Cole Montgomery, Riverside, Sr.
Riverside has been one of the more successful programs in 2A in recent years. Montgomery was an all-state defensive lineman last season and will be one of the leaders on a Riverside team that could contend for a state title.
LB: Hayden Smith, Westview, Sr.
Smith was an all-state performer last season on Westview's state championship team. Smith will look to lead Westview to another state title, while taking on even more responsibility on defense for the Chargers.
DB: Omarion Harris, Westview, Sr.
Harris was one of the many lockdown defensive players Westview had last season. He had 5 INTs last season and will look to be an all-state caliber player once again this season in Westview's title defense. 
Mr. Football Prediction: Mason Bowman, Monterey
Region Predictions
Region 1-2A
1. Hampton 7-3 (3-0)
2. South Greene 6-4 (2-1)
3. Cumberland Gap 4-6 (1-2)
4. Happy Valley 1-9 (0-3)
Region 2-2A
1. Monterey 7-3 (4-0)
2. Rockwood 7-3 (3-1)
3. Oneida 5-5 (2-2)
4. York 2-8 (1-3)
5. Wartburg Central 0-10 (0-4)
Region 3-2A
1. Meigs County 10-0 (5-0)
2. Tyner Academy 8-2 (4-1)
3. Marion County 6-4 (3-2)
4. Bledsoe County 6-4 (2-3)
5. Tellico Plains 3-7 (1-4)
6. Polk County 3-7 (0-5)
Region 4-2A
1. Trousdale County 8-2 (5-0)
2. Watertown 5-5 (4-1)
3. East Robertson 5-5 (3-2)
4. Westmoreland 2-8 (2-3)
5. Harpeth 2-8 (1-4)
6. Whites Creek 1-9 (0-5)
Region 5-2A
1. Forrest 10-0 (5-0)
2. Summertown 7-3 (4-1)
3. Mt. Pleasant 7-3 (3-2)
4. Cascade 6-4 (2-3)
5. Loretto 4-6 (1-4)
6. Richland 3-7 (0-5)
Region 6-2A
1. Riverside 8-2 (5-0)
2. Lewis County 8-2 (4-1)
3. Adamsville 4-6 (3-2)
4. East Hickman 6-4 (2-3)
5. Scotts Hill 3-7 (1-4)
6. Hickman County 3-7 (0-5)
Region 7-2A
1. Westview 10-0 (5-0)
2. Huntingdon 7-3 (4-1)
3. Union City 7-3 (3-2)
4. Houston County 2-8 (2-3)
5. Camden 1-9 (1-4)
6. Gibson County 0-10 (0-5)
Region 8-2A
1. Fairley 10-0 (7-0)
2. Mitchell 9-1 (6-1)
3. Freedom Prep 6-4 (5-2)
4. Oakhaven 4-6 (4-3)
5. KIPP 3-6 (3-4)
6. Hillcrest 2-7 (2-5)
7. Manassas 1-8 (1-6)
8. MLK 0-10 (0-7)
Preseason Top 15
1. Westview
2. Trousdale County
3. Meigs County
4. Forrest
5. Huntingdon
6. Riverside
7. Tyner Academy
8. Hampton
9. Fairley
10. Watertown
11. Monterey
12. Lewis County
13. Summertown
14. Marion County
15. Mitchell
State Championship Pick: Westview over Trousdale County