State of Tennessee HSFB Class 1A Preseason Preview
By Carter Mansfield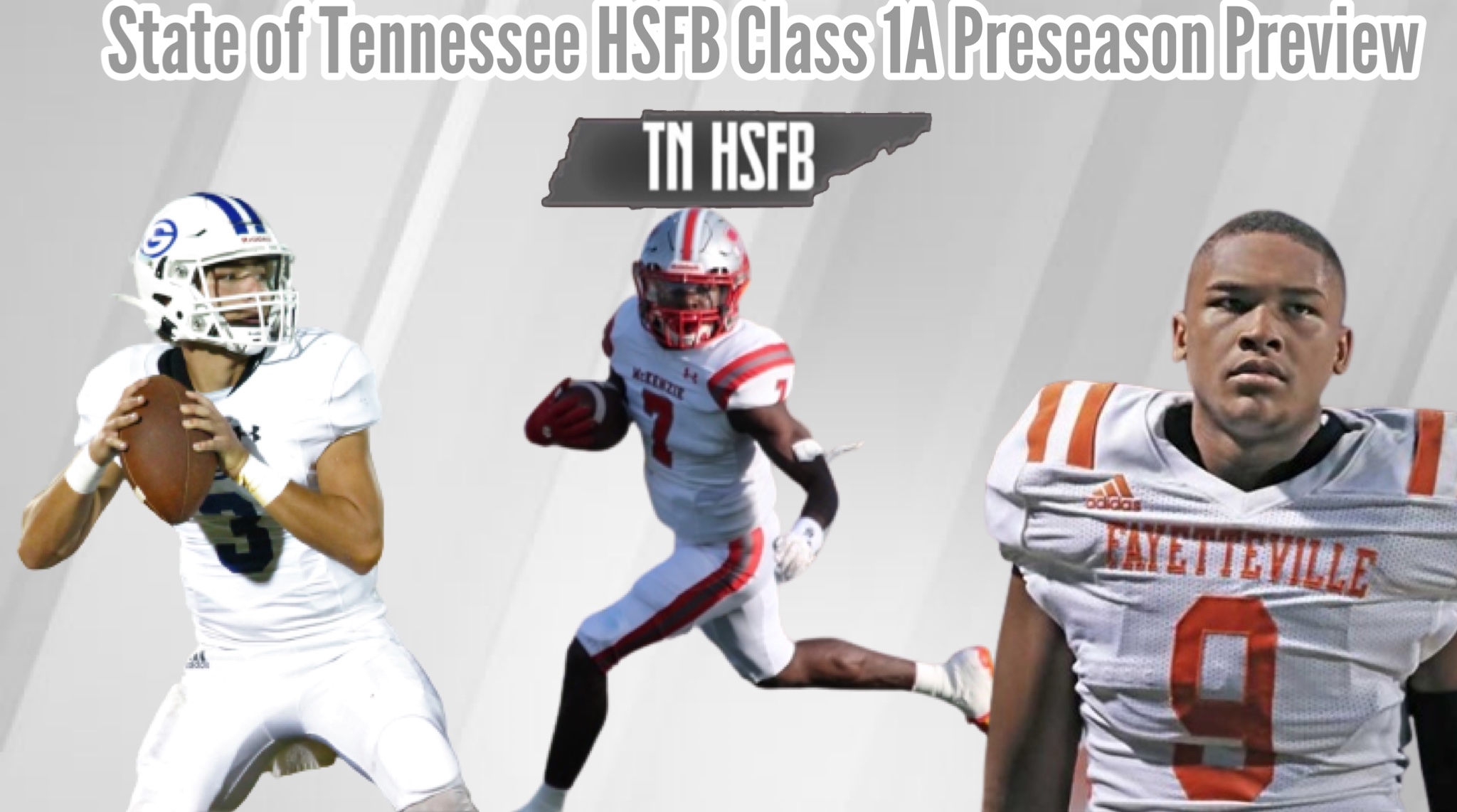 As football season gets closer, we will be breaking down each classification in the coming days and weeks leading up to the season. These previews include players to watch, our staff's top 15 preseason rankings, our Mr. Football pick, state championship pick, and region predictions for each region in the class.

One Player to Watch at Each Position
QB: Matthew Albritton, Gordonsville, Sr.
Albritton has started games for Gordonsville since he was a freshman, and has put together multiple all-state caliber seasons along the way. Albritton will have the Tigers in state title contention, and if he does that, his name will be in the Mr. Football conversation.
RB: Marquez Taylor, McKenzie, Sr.
Taylor is a star on both sides of the ball. Not only does he take carries out of the backfield, but he is also a threat in the passing game, and is a very good defensive back. Taylor currently holds offers from schools such as Kentucky, Tennessee, Ole Miss, and Michigan State.
WR: Derek Kee, Peabody, Sr.
Derek Kee is a matchup nightmare for almost any defensive back in the state. Kee stands at 6'4 and went to state in track last year. Kee will be the number one target this year for quarterback Sam Driggers, so expect him to flourish in that offense.
OL: Jacob Street, Cloudland, Sr.
Street was an all-state offensive lineman last season and paved the way for a Mr. Football semifinalist at running back in Seth Birchfield. Street will be back for his senior season, and will look to anchor the Cloudland offensive line to another deep playoff run in 2022.
DL: Stephon Shivers, Humboldt, So.
Shivers was a star on the defensive line as a freshman for Humboldt, and college coaches took notice. After being offered by schools like Arkansas, Michigan, and Ole Miss, Shivers will look to improve on his freshman campaign and lead Humboldt back to the playoffs.


LB: Isaiah Thomison, Fayetteville, Sr.
Thomison is one of the best middle linebackers in the state, and is the leader for a Fayetteville team that should make a deep playoff run this season. The senior linebacker currently holds offers from schools like Memphis, Eastern Kentucky, and ETSU.
DB: Malachi Clay, Lake County, Sr.
Malachi Clay does it all for Lake County, excelling at both wide receiver and defensive back with great speed. If Lake County wants to make a deep playoff run this season, then Clay will have to shine on both sides of the ball once again this season.
Mr. Football Pick: Marquez Taylor, McKenzie
Region Predictions
Region 1-1A
1. Cloudland 8-2 (4-0)
2. Unaka 7-3 (3-1)
3. Jellico 6-4 (2-2)
4. North Greene 3-7 (1-4)
5. Cosby 1-9 (0-5)
Region 2-1A
1. Coalfield 9-1 (6-0)
2. Greenback 5-5 (5-1)
3. Oakdale 8-2 (4-2)
4. Midway 6-4 (3-3)
5. Oliver Springs 2-8 (2-4)
6. Harriman 3-7 (1-5)
7. Sunbright 2-8 (0-6)
Region 3-1A
1. South Pittsburg 7-3 (4-0)
2. Whitwell 7-3 (3-1)
3. Copper Basin 5-5 (2-2)
4. Sale Creek 3-7 (1-3)
5. Lookout Valley 0-10 (0-4)
Region 4-1A
1. Gordonsville 8-2 (3-0)
2. Clay County 9-1 (2-1)
3. Jo Byrns 5-5 (1-2)
4. Red Boiling Springs 3-7 (0-3)
Region 5-1A
1. Fayetteville 8-2 (6-0)
2. Eagleville 7-3 (5-1)
3. Cornersville 6-4 (4-2)
4. Moore County 3-7 (3-3)
5. Collinwood 2-8 (2-4)
6. Huntland 2-8 (1-5)
7. Wayne County 0-10 (0-6)
Region 6-1A
1. McKenzie 10-0 (6-0)
2. Dresden 8-2 (5-1)
3. McEwen 7-3 (4-2)
4. Gleason 6-4 (3-3)
5. Perry County 3-7 (2-4)
6. South Fulton 2-8 (1-5)
7. Hollow-Rock Bruceton 0-10 (0-6)
Region 7-1A
1. Peabody 9-1 (5-0)
2. Lake County 7-3 (4-1)
3. West Carroll 7-3 (3-2)
4. Humboldt 4-6 (2-3)
5. Greenfield 4-6 (1-4)
6. Halls 0-10 (0-5)
Region 8-1A
1. MASE 8-2 (5-0)
2. Middle College 7-2 (4-1)
3. Booker T. Washington 3-5 (3-2)
4. Bluff City 2-6 (2-3)
5. Westwood 1-9 (1-4)
6. Middleton 0-10 (0-5)
Top 15 Preseason Rankings
1. McKenzie
2. Peabody
3. South Pittsburg
4. Fayetteville
5. Gordonsville
6. Coalfield
7. Cloudland
8. MASE
9. Clay County
10. Eagleville
11. Dresden
12. Lake County
13. Middle College
14. Cornersville
15. McEwen
State Championship Pick: McKenzie over South Pittsburg