Round 3 Game Picks
By Staff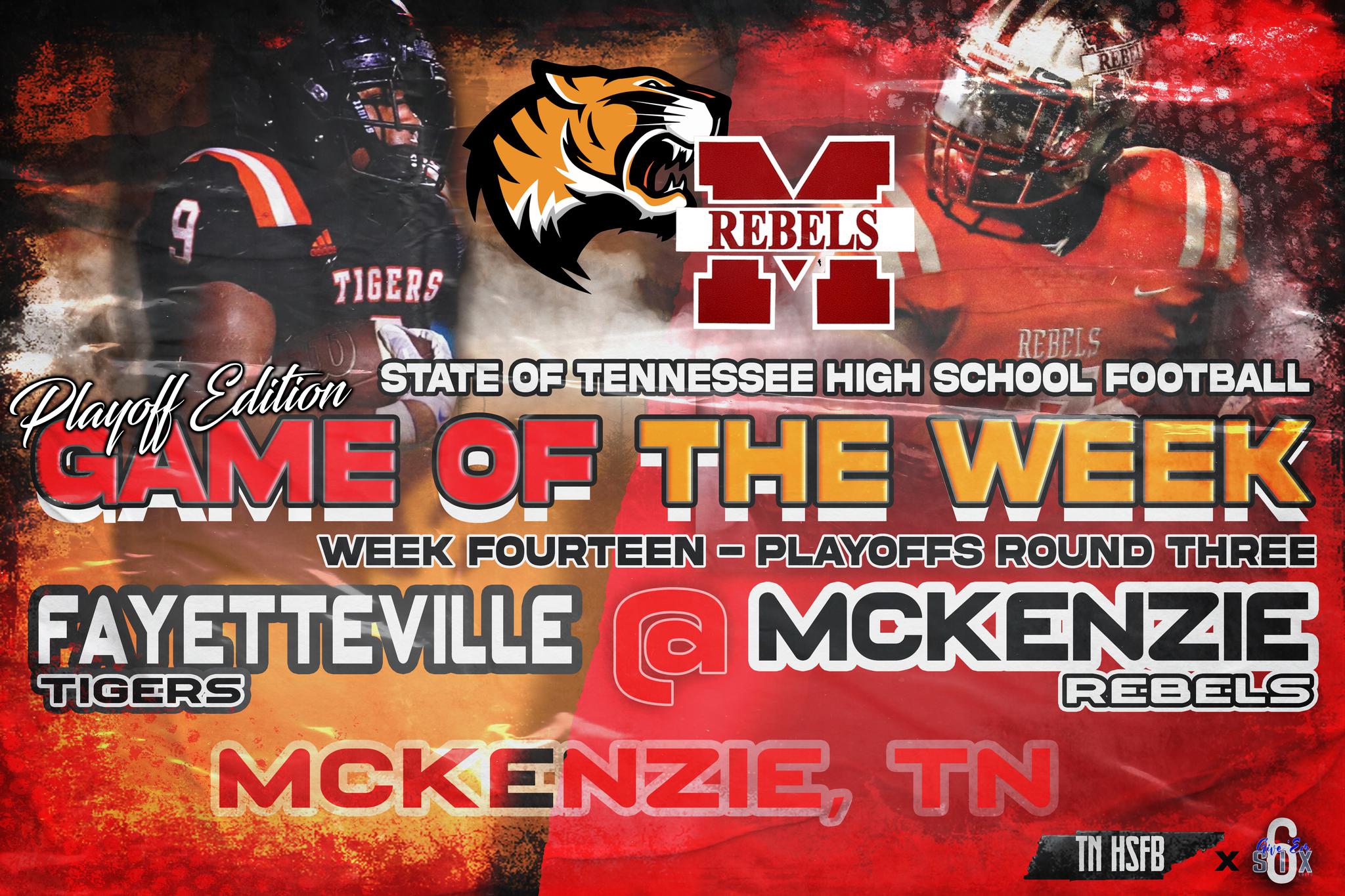 We are currently in the third round of the TSSAA Playoffs, which is the quarterfinal stage for Division One and the semifinal stage for Division Two. There are two quarterfinal games between undefeated teams that were the consensus top-two teams in their classifications coming into the playoffs, Fayetteville at McKenzie in Class 1A and Greeneville at Anderson County in 4A. Let's get into our staff's standings and picks.
Standings
1. Carter Mansfield 93-42
2. Cooper Haines 91-44
3. Isaac Leedham 90-45
4. Hunter DeNote 88-47
5. Kelsey Crabtree 84-51
6. Isaac Lutrell 82-53
7. Braedon Henson 77-58
Game of the Week
Fayetteville (12-0) at McKenzie (12-0)
Mansfield: Fayetteville
Haines: McKenzie
Leedham: Fayetteville
DeNote: McKenzie
Crabtree: McKenzie
Lutrell: McKenzie
Henson: McKenzie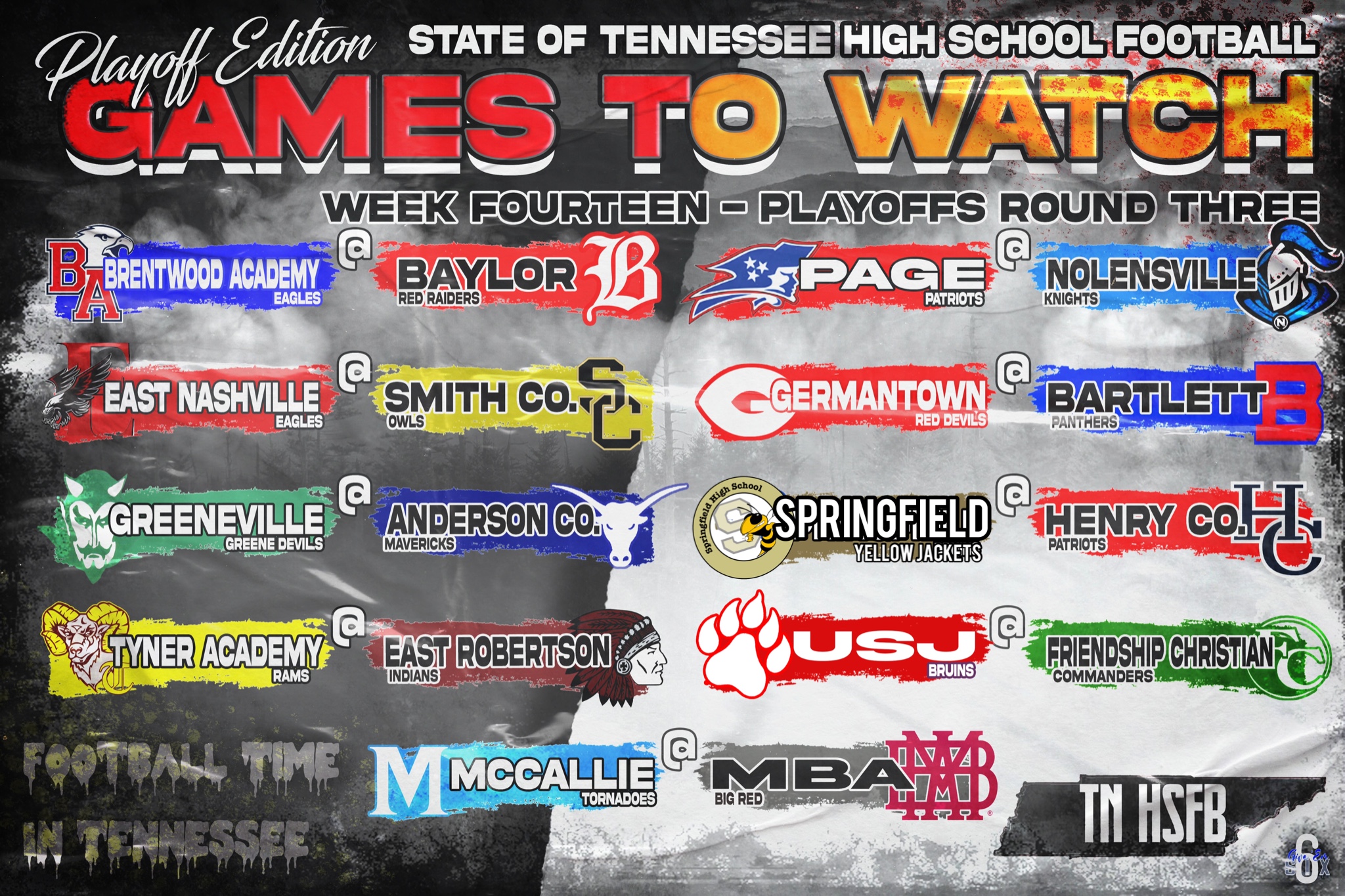 Other Games
Tyner Academy (11-1) at East Robertson (11-1)
Mansfield: Tyner Academy
Haines: Tyner Academy
Leedham: Tyner Academy
DeNote: Tyner Academy
Crabtree: Tyner Academy
Lutrell: Tyner Academy
Henson: East Robertson
East Nashville (10-2) at Smith County (11-1)
Mansfield: East Nashville
Haines: East Nashville
Leedham: East Nashville
DeNote: East Nashville
Crabtree: Smith County
Lutrell: East Nashville
Henson: East Nashville
Greeneville (12-0) at Anderson County (12-0)
Mansfield: Greeneville
Haines: Greeneville
Leedham: Anderson County
DeNote: Greeneville
Crabtree: Greeneville
Lutrell: Greeneville
Henson: Greeneville
Page (10-2) at Nolensville (12-0)
Mansfield: Nolensville
Haines: Nolensville
Leedham: Nolensville
DeNote: Nolensville
Crabtree: Nolensville
Lutrell: Page
Henson: Page
Springfield (10-2) at Henry County (10-2)
Mansfield: Henry County
Haines: Henry County
Leedham: Henry County
DeNote: Henry County
Crabtree: Henry County
Lutrell: Henry County
Henson: Springfield
Germantown (10-2) at Bartlett (10-2)
Mansfield: Bartlett
Haines: Bartlett
Leedham: Bartlett
DeNote: Germantown
Crabtree: Germantown
Lutrell: Germantown
Henson: Bartlett
USJ (10-1) at Friendship Christian (11-0)
Mansfield: USJ
Haines: USJ
Leedham: Friendship Christian
DeNote: Friendship Christian
Crabtree: USJ
Lutrell: Friendship Christian
Henson: Friendship Christian
McCallie (10-2) at MBA (11-0)
Mansfield: McCallie
Haines: MBA
Leedham: MBA
DeNote: MBA
Crabtree: MBA
Lutrell: MBA
Henson: MBA
Baylor (9-2) at Brentwood Academy (9-2)
Mansfield: Baylor
Haines: Baylor
Leedham: Baylor
DeNote: Baylor
Crabtree: Baylor
Lutrell: Baylor
Henson: Brentwood Academy
Thanks to Our Sponsors!