JP2 Routs Independence Behind Multiple Defensive Touchdowns
By Eugene Cathey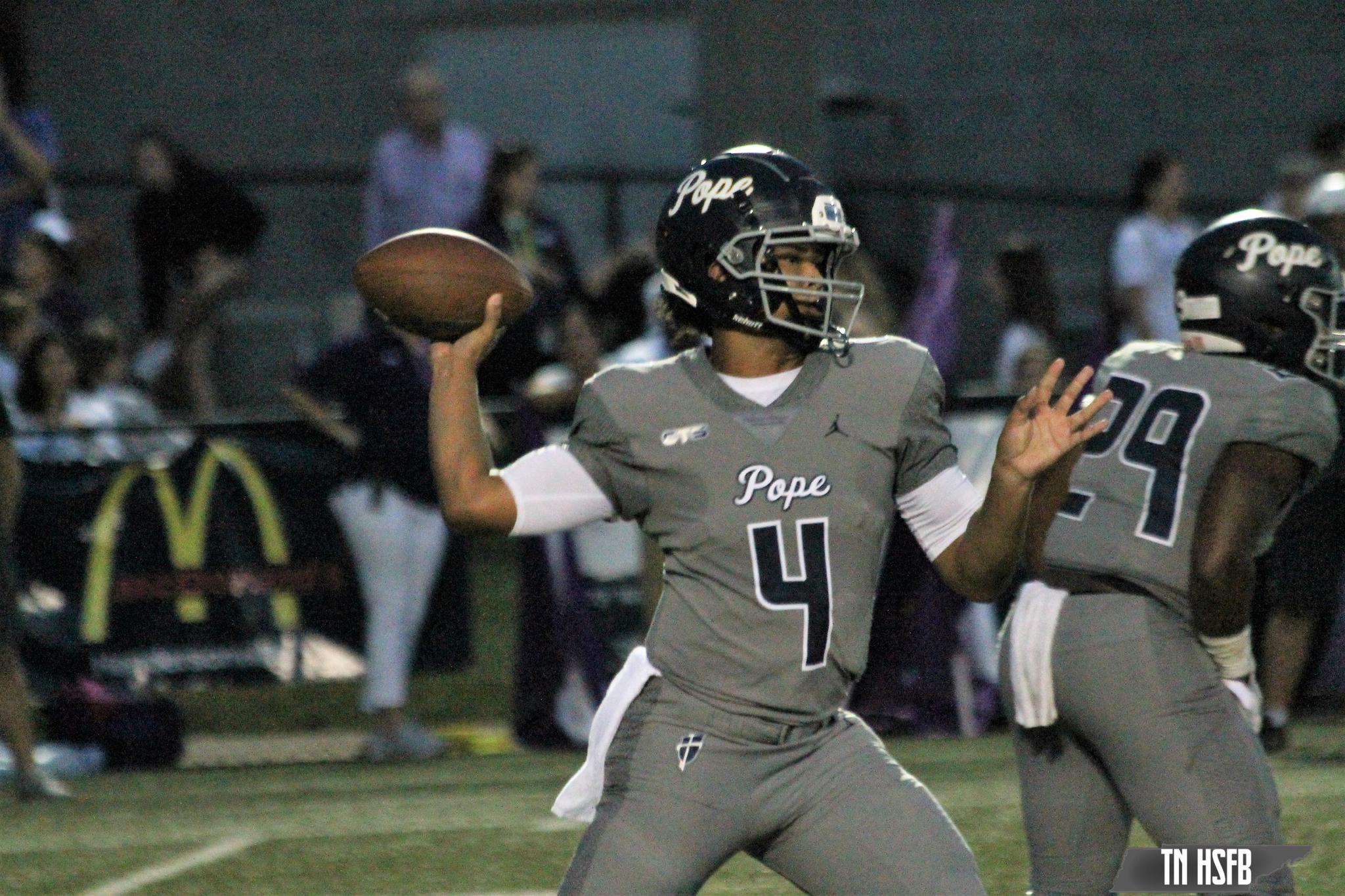 Pope Prep's offense, led by 4-star quarterback and Pitt Commit Kenny Minchey, has had no problem in the first three weeks of the season finding the end zone, as they are averaging 39 points per game.
The Knights defense decided to get into the end zone on Thursday night against the Independence Eagles, as Senior Safety Josh Mailander had 3 interceptions and returned two of those for touchdowns. Mailander would've had a 4th interception and a 3rd touchdown if the play had not been called back for an illegal block.
Minchey found wide receiver Chet Lax on 6-yard reception to get the Knights on the board at the 6:34 mark in the first quarter, then chaos ensued for the Eagles as Mailander's touchdowns all came within a span of 1:51 as Pope Prep was up 21-0 with 4:23 left to play in the first quarter.
Both of Mailander's interceptions came on attempts by quarterback Cody Pagach to 4-star Alabama Commit Ty Lockwood, the first on a ball that deflected off Lockwood's hands into Mailander, and the second was a wide pass into Mailander's hands.
"We knew they were going to try to go to Lockwood, he's their best player," Mailander said. "I was going to man up on him. I just saw the ball in the air and was lucky enough to make some plays."
"It was just miscommunication," said Lockwood, who had an appendectomy on Aug. 5 and was in just his second game of the season. "It's been, like, a month since we've thrown. That's a route where I can sit down or go out, and I sat down and he expected me to go out. We've just got to get back into our flow."
The second quarter brought scores by Knights running back Elijah Robb, who added his first touchdown of the night from 6 yards out, and Kicker Will Arbuckle added a 32-yard field goal to extend the Knights lead over the Eagles to 31-0 at halftime.
Minchey played the first half of the contest before leaving the game with a slight shoulder injury. Minchey is expected to play next week when the Knights host Baylor.
With Minchey out, the Knights turned the offense over to Freshman Quarterback Sebastian Nelson who found Colin Cook for a 26-yard touchdown in the 3rd quarter, then Robb added another touchdown in the third quarter from 3 yards out to extend their lead to 45-0. Robb finished the night with 132 rushing yards.
"With our freshman quarterback coming in, we knew we were going to run the ball. That put it on our offensive line and on me," Robb said. "We've got an amazing offense. We're just going to keep on."
"We talked all week about having a good week of preparation," Knights coach Brian Sneed said. "It's a holiday week, it's a short week. We had a lot of reasons we could have started slow and we had a slow second half last week. So we wanted to come out quick." Sneed said.
"I thought Sebastian (Nelson) came in and did a great job of moving the ball down the field," Sneed said. "We challenged them at halftime to continue 'choosing the shield' on every play, regardless of who's in the game, and I think we responded well to that tonight."
Independence scored twice late–on a Brooks Sapone 22-yard pass to Daniel Morales, and a 52-yard run from reserve running back Clay Davis.
"It's not a region game, so it's not devastating for us," Independence head coach Scott Stidham said. "If it is, we're softer than I thought. We'll recover, go back to work tomorrow and get ready for a big region game next week."
Independence moves to 2-2 on the season and will travel to region opponent Franklin next Friday. Pope Prep moves to 4-0 on the season and will host region opponent Baylor next Friday.