Early Look At The Class Of 2023
By Carter Mansfield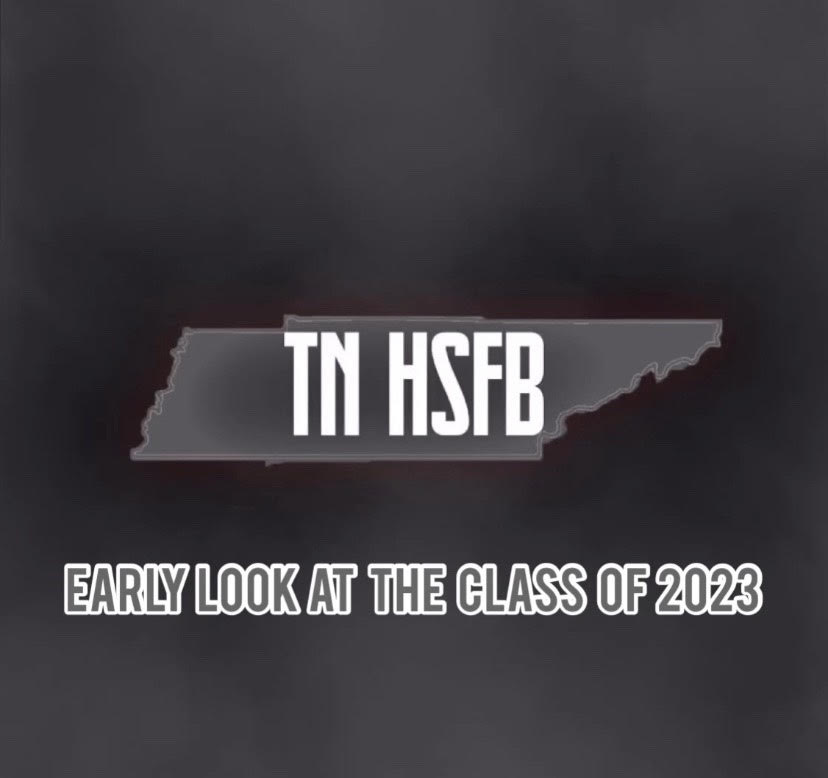 While the class of 2022 in Tennessee may be historically deep, the class of 2023 has no shortage of very talented players. It is way too early to put an accurate ranking on these players, as some potential recruits in the class haven't even seen serious varsity playing time in their careers to this point, whether that be because of injuries, or being stuck behind talented and older players at powerhouse schools. Here's an early introduction to some of the top players in the class of 2023, so far.
Marcel Reed, MBA, QB
Marcel Reed is the prototypical dual-threat quarterback, and major colleges have already started to take notice. As a sophomore, Reed has already picked up offers from schools such as Tennessee, Alabama, and Louisville. Reed has started games in the last two seasons at powerhouse Montgomery Bell Academy, and has built up quite a resume for such a young player, in that time. After leading the Big Red to the state title game as a Freshman, Reed had a great sophomore campaign. He threw for 1,565 yards, ran for 366 yards, along with 22 total touchdowns on the season. "I'm proud of where I am, but there is still lots of work to be done, obviously." said Reed. ""My goal for next year is to become a better field general, see the field well, and work on my reads. When I can do that everything is so much easier. I want to win a state championship." As for now, Reed is showcasing his talents on the hardwood, as he is also one of the top basketball prospects in the state. I think Reed will end up being one of the more highly touted prospects in the class over the next couple of years, and he will have his choice of schools when his senior year rolls around.
Tre Hartwell, Independence, RB
Tre Hartwell is an all purpose back from Independence, who really broke out for the Eagles this past season. Independence really centered their offense around Mr. Football semifinalist Jaxson Campbell, but Hartwell proved himself to be a valuable option for the Eagles, offensively. Hartwell really found his stride in the final three games, and had several big runs in the biggest moments of the season. "Even though I'm in a pass heavy offense, I feel like I brought out the running game and was the standout player on the field." said Hartwell. He has interest from several major schools, and has already picked up an offer from Tulane as a sophomore. Look for Hartwell to be a star next season, and have Independence in the state title conversation.
Kenny Minchey, JP2, QB
Kenny Minchey exploded onto the scene for Pope John Paull II late in the season, as he replaced quarterback Sawyer Watts due to an injury. In just 5 games, Minchey threw for 1,164 yards and 10 touchdowns, with only 1 interception. "My first game against Christian Brothers was when I really felt that I showed I was prepared and capable." said Minchey. His late season run allowed him to pick up offers from Tennessee and Eastern Kentucky. Minchey is definitely a guy that I think will continue to pick up offers from major schools, as the pandemic dies down and recruiting picks back up.
Brycen Sanders, Baylor, OL
Brycen Sanders stood out to me as much as any lineman I watched this past season. His size and athleticism as a blocker makes him one of the best offensive line prospects in the entire state. He has already picked up an offer from Ole Miss, and he tells me schools such as Tennessee and Florida State are showing heavy interest. Sanders had surgery on his appendix late in the season, and was back in three games for Baylor's playoff game against MBA. "I think our playoff game against MBA helped prove myself. It was 3 weeks after my appendicitis surgery, so it proved my toughness. MBA is always a tough opponent and I think I played my best game." said Sanders. Sanders is a player that will have plenty of Power 5 schools to choose from once he gets to signing day.
Caleb Herring, Riverdale, LB
Caleb Herring is a very athletic linebacker that can lineup at multiple positions on the defensive side of the ball. He was a part of one of the best defenses in the state this past season at Riverdale, accumulating 60 tackles, 14 TFLs, and 4 sacks. Herring was one of the first players in this class to pick up big offers, as he picked up an offer from Kentucky in January 2020, and his recruitment has boomed ever since. He currently holds offers from schools such as Tennessee, Arkansas, and Baylor. He also tells me that Penn State and Clemson have shown interest. On his recruitment, Herring said, "I'm blessed that I'm in the position I'm in today, but that can come last, I'm focused on the team and then myself." Herring will be one of the top players in the class on signing day.
Ty Lockwood, Independence, TE
Ty Lockwood is a player that has had his recruitment really pick up in the offseason after a breakout Sophomore season. He was one of the many weapons on the Independence offense this past season, as he had 44 catches, for 591 yards, and 3 touchdowns. Lockwood really felt like he had his best games in the biggest games, as he said, ""I feel like the game I had against Ravenwood and the second Brentwood game kind of proved that I was a top prospect because the guys in those games are big time guys, and I kind of showed out in those big time games." Lockwood stands at 6'5 which makes him a matchup nightmare for opposing defenses. Like I said earlier, Lockwood's recruitment has really picked up through the offseason, as he has picked up offers from schools such as Penn State, Ole Miss, and Tennessee. He is a prototypical tight end prospect, so expect him to be a hot commodity once signing day comes around.
Joe Crocker, FRA, OL
Joe Crocker is a massive guy, who dominates almost anyone he faces, and college coaches have already started to take notice. Crocker was one of the bright spots of a struggling FRA team, and he really proved himself in their playoff game against DII-AA power ECS, who were led by future Clemson lineman Dietrick Pennington . Crocker said this on the ECS game, "A game where I felt I proved myself was against ECS in the playoffs, as I went against some great players like Dietrick Pennington. I felt like I really held my own against a top player in the state and country." He currently holds offers from Kentucky and Ole Miss. Crocker has the size to play major college football, and there is no doubt that he will be someone who shoots up recruiting boards as his career goes along.
Desean Bishop, Karns, RB
Desean Bishop had one of the biggest seasons of anyone in the 2023 class with 1,731 yards rushing and 26 touchdowns. Bishop already has an offer from Tulane.. Karns had a very young team this past year, and they definitely have a centerpiece to build around in Bishop. Bishop is a guy who just wants to win, as he said, "My goal for next season is to win more games and get our younger guys going." Bishop is definitely a guy that will see his recruitment pick up rapidly as his high school career goes along.
Nate Spillman, Lipscomb Academy, ATH
Nate Spillman is a guy who had a breakout season in 2019 with Franklin, but had to sit out the 2020 season due to TSSAA transfer rules. Even though he had to sit out this past season, Spillman has already picked up an offer from Tennessee. Spillman having to sit out the 2020 season is almost surely a reason he hasn't picked up more offers. "I'm just going to do me," said Spillman, "Winning state is my goal for sure. I'm not worried about recruiting. I know offers will come when it's the right time." Once Spillman gets back onto the field in 2021, his recruitment will pick back up rapidly.
Tyler Jeffries, Alcoa, OL
Tyler Jeffries made the jump from Greenback to state powerhouse Alcoa this past season, and hasn't looked back. He won a ring with the Tornadoes, and already has offers to go along with it. Mississippi State and Georgia Tech are the early offers that the class of 2023 offensive lineman has gained already, but there are plenty of other interests around the country. One thing that sticks out about Jeffries is his toughness. "This year I played through a dislocated elbow and pneumonia, and I thought I still produced holes and pockets for our guys." Jeffries will definitely be a guy to watch out for in the coming years for one of the state's best programs.
Lance Williams, Alcoa, OL
Lance Williams was another key part of Alcoa's dominant offensive line, and college programs have already started to take notice. After a dominant sophomore season, Williams picked up offers from schools such as Kentucky, South Carolina, Tulane, and Eastern Kentucky. The main goal for Williams in this upcoming season for Williams seems to be a pretty common one in the Alcoa program, "I want to win state again." said Williams,"I also want to get my 40 time down and get some of the top colleges to offer." Alcoa should have no trouble running the ball over the next couple of years with Williams and Jeffries anchoring the unit.
Colbey Lamberth, Dickson County, QB
Colbey Lamberth has been vastly underrecruited throughout his high school career, as he sat out this past season due to transfer rules after transferring from Nashville Christian to Dickson County. Even though he had to sit out, Lamberth has already picked up offers from Kentucky, Charlotte, and Eastern Kentucky. "One of my main goals when I came back to Dickson County was to help turn the program around. My main goal this year is to make the playoffs, and have a winning season." Lamberth is a guy who's offer list will grow exponentially as he gets the opportunity to have more film to send to college programs.
Bo Burklow, CPA, TE
Bo Burklow is already one of the state's best dual-sport athletes, as he is a Tennessee baseball commit. Whether he decides to play both in college is yet to be seen, but he definitely has a bright future in football if he decides to go that route, as he already has an offer from UCF. Burklow definitely has division one size, and he used that to his advantage all season long. Two games that really stood out to me were Ravenwood and the state championship game against Lipscomb Academy, as he imposed his will against whoever was on the other side of the ball. "I felt like I had already proved myself by that game, but I felt like that game was a statement game for me, saying I will beat anybody you put in front of me." Burklow is the complete package at the tight end position, but it will be interesting to see what sport(s) he decides to play in college.
Martez Cooksey, Ensworth, ATH
Martez Cooksey is an explosive athlete on both sides of the ball, and a player that will definitely pick up recruiting traction this season after dealing with transfer eligibility issues and injuries. Cooksey broke his leg in quarter one of the first game of the season this past year. Even though he has had to sit out the past two years, Cooksey has been able to learn from some of the state's top defensive backs at Ensworth in Oklahoma's Keshawn Lawrence and Ohio State's Andre Turrentine. "Being able to play behind Keyshawn Lawrence as a Freshman and Andre Turrentine as a sophomore, while getting to watch him prepare and how he approached the game every Friday night helped me out a lot." said Cooksey, " They are great mentors and are also helping me with my recruiting." Cooksey is one of the biggest breakout candidates in my mind, and will definitely get his opportunity this season.
Joshua Wade, TKA, OL
Joshua Wade put everyone on notice during his sophomore season, and is currently looking like he will be one of the best offensive linemen in the state when it is all said and done. After a dominant season, Wade picked up an offer from Kentucky. When asked about some of his goals for his junior season, Wade said, "I want other players to not want to go against me when they line up. I'm focusing on building a brand and style around my name. I hope to become closer with my teammates and have a breakout season with the end goal being state." Wade has definitely shown just how dominant he can be, and that will definitely lead to more and more schools taking notice over the next two years.
Ryan Damron, Henry County, QB
Ryan Damron has been well-known around the state ever since he won the Henry County starting quarterback position as a freshman in 2019. He threw for 1,700 yards as a sophomore, along with 20 touchdowns, and only 2 interceptions. Damron recently picked up his first offer from Eastern Kentucky, and will almost surely pick up more over the next two years. Damron will look to lead a very good, and young, Henry County core, while home a championship for the Patriots.
Zamariyon Kendall, Henry County, ATH
Zamariyon Kendall has been a huge piece to Henry County's success, while also getting to learn from two of the state's best players last year; Mr. Football semifinalist Jermarcus Johnson on the offensive side of the ball, and Memphis commit Jawon Odoms on the defensive side. Even though Kendall has played behind these two, he has still managed to pick up offers from Memphis and Western Carolina. "I want to reach the top of my game to make me and everyone else around me better. I hope me and my team come out with a ring and a few of us pick up a few offers out of that." said Kendall. It will be interesting to see what position Kendall plays in college, but for now, Henry County fans should be very excited about the Patriot's young core.
Braylen Ragland, White Station, QB
Braylen Ragland is another player that has yet to play a lot of high school football, but still has plenty of offers and recruiting interest. Ragland has shown out on the 7 on 7 circuit, and college coaches have taken notice. He currently holds offers from schools such as Tennessee and Auburn. When asked about how this past season's cancellation has affected him and the recruiting process Ragland said, "It was definitely a blow for our team. We expected to be one of the best teams in the state. The goal is simple....win. Everything else will fall in place if we are winning." Ragland should be the guy for the Spartans this season, as they will look to make a run at the 6A title.
Chance Fitzgerald, Nolensville, WR
Chance Fitzgerald broke out this season, as Nolensville made a run to the 4A semifinals. Fitzgerald was a key player in that run, and colleges are starting to take notice. He has already been offered by schools such as Kentucky and Tennessee State. On some of his goals for next season Fitzgerald said, "I want to take more of a leadership role in the locker room, I want to be all state at WR, and I want our team to bring a state championship to Nolensville." Fitzgerald is one of the best wide receiver prospects in the state, and should have a long list of suitors at the end of his senior year.
Adarius Redmond, Powell, WR
Adarius Redmond is currently the state's highest rated prospect by 247sports, and holds offers from some of the biggest schools in the nation such as Alabama, Georgia, and LSU. Redmond broke out for Powell as a freshman, and the offers have rolled in ever since. He has the potential to be a 5-star player at the end of his high school career, and will definitely have his choice of schools when it's all said and done. Redmond will be one of the key pieces for a team that has a chance to win a 5A state title next season in Powell.
Shamar Porter, Ensworth, WR
As you can tell, there are no shortage of elite wide receivers in the state's 2023 class, and Shamar Porter is no exception. Porter already holds offers from schools such as Ole Miss, Mississippi State, and Penn State. Porter is one of the key pieces of a very young Ensworth team that will look to make noise over the next few years. He is another guy that will have his choice of schools when signing day comes around.
Hunter High, Lipscomb Academy, LB
Hunter High is a player that really stood out to me in person this past season, especially in the state title game against CPA. He is aggressive, hits hard, and plays smart. He has seen some recruiting interest so far, but as he starts to put on weight over the next couple of years, I expect him to end up being one of the best linebackers in the state.